Intensity Ramps Up at Moose Training Camp
By: Anthony Fusco | Published: October 4th 2023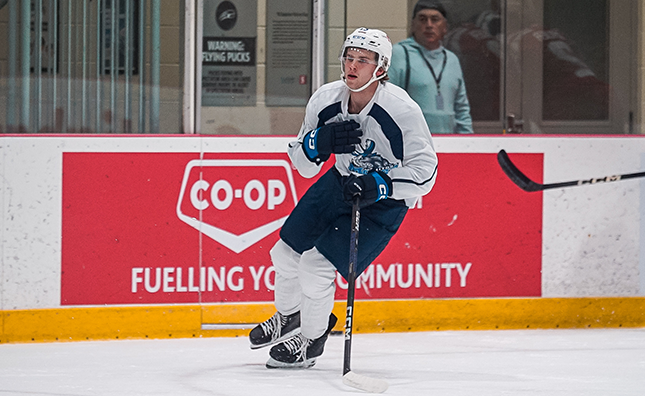 The intensity dialled up a notch on the third day of Manitoba Moose training camp. Following a quick practice, the group was split into two sides to battle it out in a scrimmage. It was a change of pace for the squad and a chance to get some reps in at game speed. That increase of pace will prove valuable on Thursday when the team skates in the first of two exhibition games against the University of Manitoba Bisons (Wayne Flemming Arena, 7 p.m.).
The Winnipeg Jets have steadily assigned players to Manitoba the past week and today was no exception. A quartet of players joined the Moose today including forwards Dominic Toninato, Jeff Malott, Brad Lambert and defenceman Ashton Sautner. Toninato and Lambert both suited up in pre-season action for the Jets on Monday as they battled the Flames in Calgary. Toninato found the back of the net in the Jets eventual 5-4 loss.
"It's always nice getting on the scoresheet up there," noted Toninato. "It definitely builds the confidence and hopefully I can run with that this year."
Now back with the Moose, Toninato turns his attention to finishing out training camp and being a leader for the organization's younger prospects.
"I want to be a guy who those young guys can look up to and learn from," said Toninato. "I'd like to teach them some things that I've learned over the years and help out on and off the ice."
On the flip side, Lambert is in the process of his second professional training camp. The rookie hopes to see improvements in his own game for the upcoming season.
"I feel like I've improved," remarked Lambert. "Over the summer, I got a bit stronger and I'm feeling better in battles and face-offs. There's still a lot of stuff to improve on, especially face-offs, but I'm getting there."
A big boost for the Lahti, Finland product in his second camp with the club is his familiarity with the city of Winnipeg and the organization's players and staff.
"You know most of the guys, which is nice," said Lambert. "It's a great group of guys, both with the Jets and with the Moose. Wherever you are, it's great to be with the guys and fun to be back."
The Moose are back on the ice on Thursday morning. The game group takes to the ice for a pre-game skate at 9:30 a.m. while the non-game group skates at 10:30 at hockey for all centre. Puck drop for the exhibition game at Wayne Flemming Arena is 7 p.m. against the University of Manitoba.