Morrison's Hiring A Decade in the Making
By: Daniel Fink | Published: July 20th 2021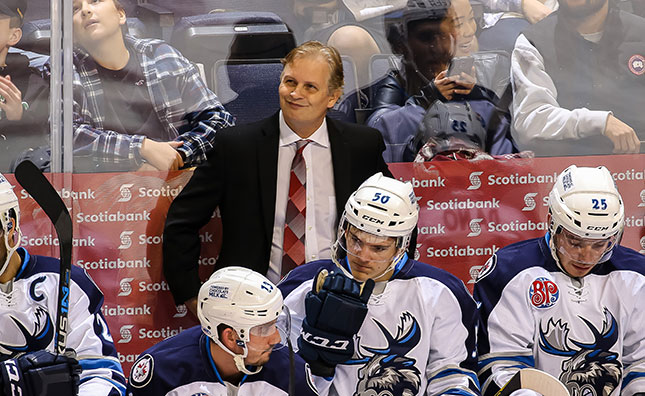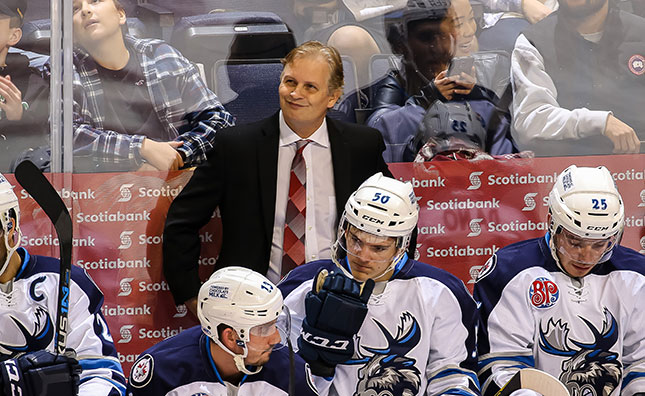 Monday began a new era for the Manitoba Moose as Mark Morrison was announced as the ninth head coach in franchise history. If the name sounds familiar, it's not just because the new Moose bench boss shares it with another Mark Morrison of "Return of the Mack" fame. The 58-year old spent six seasons as an assistant coach with the Winnipeg Jets AHL affiliate in St. John's and here in Manitoba from 2011-16. Before that, Morrison was the head coach of the Victoria Salmon Kings from 2006-11 while the club was the ECHL affiliate of the Moose.
To say the Moose head coach position was on Morrison's radar for a while might be an understatement.
"To be honest, I've wanted this job probably for about 10 years of my career," said the incoming head coach during a Zoom call with local media. "I think the whole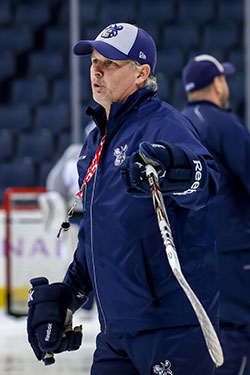 time I was in the American Hockey League, even in St. John's I spent a lot of time with the new guys there who were Adam Lowry and Josh Morrissey. I just think, for me, where I'm at, that's my reward is those guys playing in the NHL. That's how I get a high out of the hockey game right now. Seeing these guys play in the NHL."
During Morrison's previous stint with the Moose he was the assistant coach to Pascal Vincent and worked alongside Eric Dubois (assistant) and Richard Bue (video). After departing to join the Anaheim Ducks, he was replaced by Marty Johnston as assistant coach. All three are still with the Moose and most of the team's support staff worked with Morrison as well. That familiarity adds to Morrison's excitement in returning to the organization.
"It means a lot to me to be able to come back and work with, surprisingly or not surprisingly, pretty much the same staff as when I left. It shows the continuity of the organization. I'm pretty happy to come back and work with a lot of good people who I developed good friendships with in the past."
Those relationships started with Moose general manager Craig Heisinger back when Morrison was the head coach in Victoria. As Manitoba's ECHL affiliate, The Salmon Kings saw numerous players head back and forth between the clubs over the five seasons Morrison was the head coach. The Delta, B.C. product's work at the ECHL level earned him an opportunity to join the Winnipeg Jets organization as an assistant in St. John's. That afforded him the chance to build further relationships within the organization in management, scouting and player development.
"I got on the website and started looking at the staff and there's very few changes to that staff for years back. That's very comforting to know that people are looked after and there's a sense of loyalty in the organization."
With his time spent in the AHL, Morrison is no stranger to working with young players. In addition to Lowry and Morrissey, current Winnipeg Jets including Kyle Connor and Connor Hellebuyck worked with Morrison. Even during his four-season stint as an assistant coach with the Anaheim Ducks, Morrison dealt with a youthful group including Trevor Zegras, Max Comtois, Sam Steel, Isac Lundestrom, Max Jones and Troy Terry. With the youth movement in California, Morrison witnessed the transition those players need to make from the AHL to the NHL.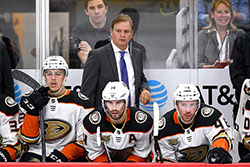 "I found that while I was in the NHL, the biggest problem we had with our young guys coming up is they couldn't execute at the pace the NHL game is at. We're going to try to have a lot of pace during practice and a lot of pace during games where we execute so it's an easier transition to the NHL for (the players)."
Despite it being roughly 10 years since the words "head coach" sat next to Morrison's name, he had a refresher by fire a couple seasons ago behind the Ducks bench.
"When Randy Carlyle got let go by the Ducks and Bob Murray took over, I ran the bench. So I got three-four months of running the bench in Anaheim and it came back pretty quick. I haven't done it now for another couple years, so we'll see, but I don't think it's going to be a problem."
Being a head coach in the AHL is an intricate balancing act. It's important for prospects to develop in a "winning culture", which requires picking up points in the standings. However, that needs to be balanced against placing those prospects in high leverage situations they can learn from and sometimes make costly mistakes. What doesn't need to be balanced, though, is the attitude both of those items can be approached with.
"I'm going to be relentless on the work ethic, on competing. All 23, or however many players we're going to carry, are all going to be competing as hard as they can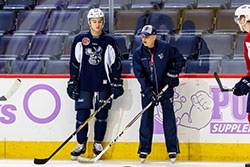 every night," explained Morrison. "We're going to play a similar style of hockey as the Winnipeg Jets are, system-wise, just so it's an easier transition for the players. We are going to play fast. We are going to compete and we're going to play fast."
Fans won't have to wait long to see Mark Morrison back behind the Moose bench. There are just 86 days until the American Hockey League is scheduled to drop the puck and open its 2021-22 regular season on Oct. 15.
2021-22 Manitoba Moose Seat Packages are available for purchase now. Visit moosehockey.com/packages for more information on the benefits of being a Manitoba Moose Seat Holder.