Pearce chases dream through U Sports
By: Mitch Peacock | Published: September 7th 2017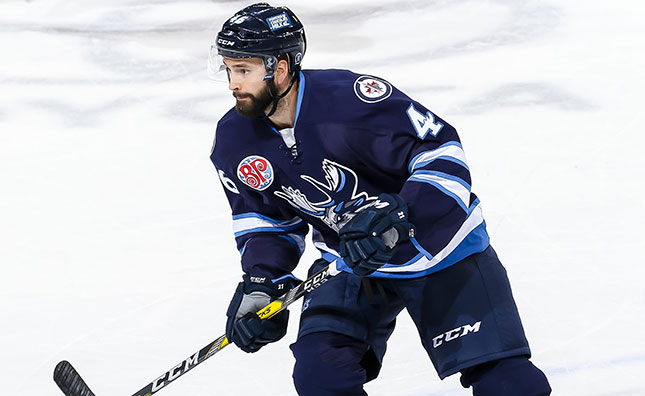 The Manitoba Moose have two top players from Canadian university hockey under contract for the coming season.  Both of those players will tell you their time playing in U Sports was critical to making the jump to the pro ranks.
Elgin Pearce and Francis Beauvillier both impressed in late-season appearances with the Moose.  Pearce says the two talked about the role university hockey played in their development as they grabbed a meal before heading home at the end of the AHL season.
"We were at Stella's at the airport and we were both flying out from the end of the season there last year and he kind of just said 'I'm a better player now'," before adding more from the conversation with Beauvillier. "(He said) at 20 years old 'maybe I just didn't know my game and went to the CIS (now U Sports) and kind of just figured out what I had to be to be successful'."
It's a sentiment Pearce shares.
While the former QMJHL'er Beauvillier can boast of two national university titles with New Brunswick, Pearce was named Canada West MVP last season – his fourth season at the University of Calgary.
In addition to scoring an impressive 20 goals, in just 28 games, Pearce earned national recognition by being named the player best combining sportsmanship and ability – his third consecutive year taking the honour.
FORK IN THE ROAD
Five years ago, Pearce notched 75 points in 71 games while finishing up his final year of WHL eligibility with the Kootenay Ice and Medicine Hat Tigers.  It was a strong enough season that Pearce decided to try his hand at pro hockey and made the jump to the ECHL.
After a four points in a combined 13 games with Greenville and Gwinnett, the 21 year-old felt he wasn't quite ready to play the game for a living and opted to go to Calgary and become a student-athlete again.
The decision to stop collecting paycheques and hit the books was made much easier due to the Western Hockey League's scholarship program, but that wasn't always obvious to Pearce.
"Not at first to be honest with you. Every player coming out of the WHL wants to make the NHL, but I think the false reality is everyone thinks they can but only a few do right away. I didn't think of it at first, but then I came back to U of C and kind of slowly figured out that this is actually a really good path and more guys that aren't on that fast track to the NHL should be using that scholarship," said Pearce who earned his educational support through nearly 300 WHL games played (regular season and playoffs). "I think it's a really, really good tool that not many people have. When you walk around campus, not many people have their schooling fully paid for so it's definitely a treat for sure."
DYNAMIC DINO
While Pearce has become a promoter of the WHL scholarship option, he's also a big fan of Canadian university hockey and grateful for the experience gained while with the Dinos in Calgary.
"It was huge. I got to play at a high level and, kind of, tune my game and learn a little bit more about life. The kind of things that taught me hockey's maybe not the most important thing," said the 25 year-old from his summer training base in Kelowna, BC. "It forces you to grow up and it forces you to work extremely hard because you know that you're not special and if you're going to make it you're going to have to work 10 times as hard as you thought you had to work before. It was definitely an experience that I needed and I think it's definitely helped me step back in to the pro game."
Well on his way to a BA in International Relations, Pearce sees himself as more ready than ever to give professional life another go.
"Playing those three games (with the Moose) at the end of last year, kind of, really helped me paint a picture that I can step in and I can play in the American Hockey League so I've trained this summer with the mindset to come in and make the Moose – so that's obviously what I'll try to do. I mean obviously there's some things that are out of my control with how many guys they have that might not make that happen, but I think I can play there so that's my mindset for this summer."
U SPORTS, YOU BET!
Youthful in most walks of life, Pearce is entering his prime years as an elite athlete, but isn't bothered by taking a different route.
Instead he recommends it to those like him.
"I think some guys just think that once they get to CIS (U Sports), kind of, the dream is over. An example of my story would be just to never give up. And, if you want to play you just got to keep grinding. It's not the end of the world if you don't go right to the NHL right out of the WHL."
While the NHL remains Elgin's ultimate goal, he's prepared to do what it takes to carve out a living in hockey.
"I love to play the game and I'd love to make a career out of it and that's what I see myself doing in the next ten or so years."
A little older, and wiser, you never know what's possible for an honour roll student of the game.