Feb. 12 Practice Report – Moose Hoping to Keep Rolling
By: Mitch Peacock | Published: February 12th 2019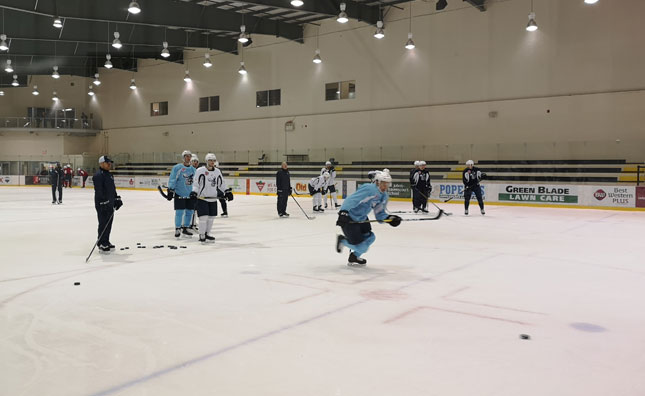 The Manitoba Moose have been so hot inside Bell MTS Place lately it's fitting they went outside to skate yesterday.
A group of Moose players visited the Bartel family's winning entry in the club's annual backyard rink contest last night, enjoying a day off from formal practice after sweeping the Texas Stars over the weekend.
Today, it was back to work with a focused one-hour session at Bell MTS Iceplex.  It was an important session to set the tone as the club looks to build on a weekend sweep of the Texas Stars downtown.  The back-to-back wins have the team on a 10-game point streak on home ice.
Seth Griffith had a goal and two assists in the two wins, and says the team's outlook is making a difference.
"I think we're just playing with a lot more confidence. Ever since after Christmas we've been playing with a lot more confidence, and we're sticking to the system. Guys aren't going off on their pages, and we're just sticking together as a team through the highs and lows. So, at the end of the day, this is just another weekend where we had pretty good games but we've got Milwaukee and Chicago coming up here so I think it's time to look towards those games now."
Manitoba has just five regulation time losses in 19 games since its holiday break, including nine wins and a shootout loss in its last 10 at Bell MTS Place.
Strong play against Central rivals has boosted Manitoba's playoff hopes too.  The team is 7-3-1-1 in its last dozen divisional games.  A span that includes the club's wins over the weekend, two games where Manitoba overcame careful starts before coming on to take the two points.
"I think this weekend was a really good learning experience for our club, because I think our starts in both of those games weren't as sharp as we would have like them to have been," said defenceman Nelson Nogier after today's workout at the club's west Winnipeg practice facility. "But, at the end of the day, we found a way to win and our confidence progressed and grew in both of those games towards the end of the game and allowed us to come out on top at the end of the night."
The Moose will have their hands full against their long-time rivals this week. Manitoba is 1-3-0-0 against Chicago this season and has lost three straight against Chicago.
It's worth noting though, that lone Moose victory against Chicago came at Bell MTS Place.
Game time 6:45 p.m. for the games on Wednesday and Friday,. and you'll find your tickets at moosehockey.com/tickets.
If you can't get to the game, you can catch the Moose and Wolves on TSN 1290, moosehockey.com, the Moose App, and AHLTV tomorrow evening pre-game coverage begins at 6:45 p.m.