Feb. 14 Practice Report – Teamwork Key to Recent Success
By: Mitch Peacock | Published: February 14th 2019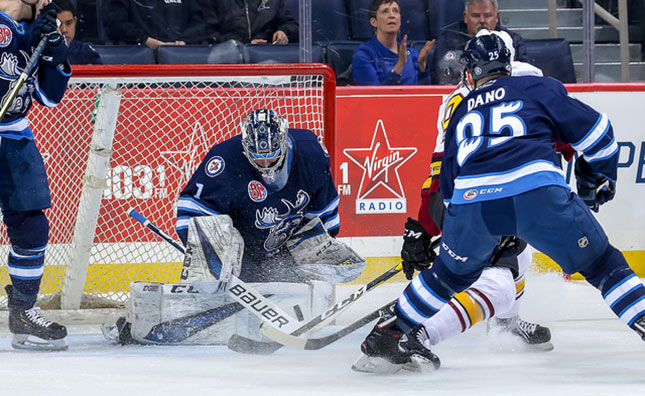 The Manitoba Moose gathered today at Bell MTS Iceplex, energized after extending their winning streak to three games with a victory over long-time rivals the Chicago Wolves last night.
It took a total team effort to find a way past the high-flying Vegas Golden Knights' affiliate, but with four lines contributing, six defencemen on their games, and another strong night in goal from Eric Comrie, the Moose extended their home ice point streak to 11 contests with the 4-2 decision.
Marko Dano's second period goal proved to be the game winner as Manitoba improved to 10 wins and a shootout loss in their last 11 starts downtown.  The victory also lifted the Moose within three points of the final playoff spot in the Central Division.
Head Coach Pascal Vincent credits the players for taking responsibility for taking their game to another level.
"A coaching staff is like a GPS, give them some kind of direction – a map, a road map – and they decide if they're going to follow the road map or not and they've been working well  together, said Vincent in the aftermath of the series-opening victory against Chicago. "We have a great room. We have good veterans, and right now we have a lot of confidence. We see our guys making plays under pressure. We see our younger players, first year players, getting more comfortable so that gives me a chance to play all four lines."
Tucker Poolman extended his point streak to six games with an assist last night, while Eric Comrie earned his 70th career victory – second most in Moose history behind only Cory Schneider's 84.
Jansen Harkins, Hunter Fejes, and Michael Spacek joined Dano on the list of scorers in topping the Wolves on a night when the Moose seemed to get something from everyone.
"In the first period, those guys (the third and fourth lines) are working hard and they lead by example too some nights, said veteran JC Lipon. "Not all the time, you know, the top two lines can be going and they were good and they had some big goals and then we kind of stepped in when the game started unfolding a bit so it was good."
So good that the Moose beat a contender for first place in the Central to record their seventh consecutive win at home, two shy of the franchise record.
The Moose and Wolves meet again Friday night at Bell MTS Place in a 7 p.m. faceoff for more information visit moosehockey/tickets.