Feb. 21 Practice Report – Moose Confident in Plan for Success
By: Mitch Peacock | Published: February 21st 2019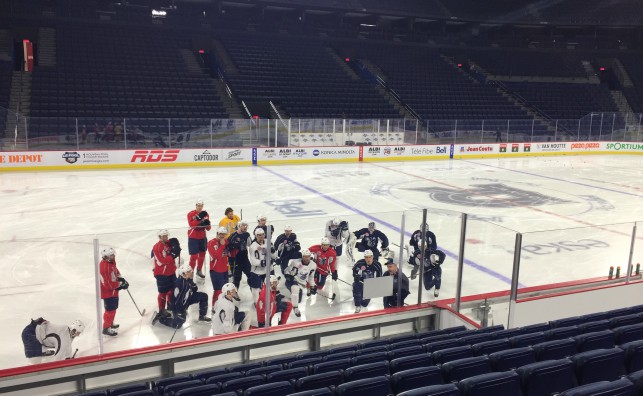 The Manitoba Moose practiced in Laval, Que. today as the club turned its attention to the Laval Rocket, their next opponent on a six game trip east.
While the Moose have been playing some of their best hockey of the season since Christmas, going 14-7-1-2, wins have been hard to find on the road.  Despite earning points in 11 of their last dozen at home, Manitoba has just one win in its last seven away starts after yesterday's loss in Toronto.
"I think it's just routine, you know you're obviously in a better routine when you're at home – you feel a lot more comfortable," said veteran forward Seth Griffith. "We've got a lot of young guys on the team, so maybe it's just getting that routine on the road. You know, it's tough we've got two 11 a.m. games and then a couple of back-to-backs so it's going to be tough but it's a good test for us."
Griffith sits second in Moose scoring with 39 points, one point behind linemate Logan Shaw, after Shaw's two-point outing in Toronto made him the team's first 40 point player of the season.
The Moose got back on the practice ice today after a busy Wednesday.
First it was that school day showdown with the Marlies, then a six-hour bus trip to the Montreal Area.  Importantly, the morning start in Toronto allowed for an evening arrival in Quebec, and avoiding a late night arrival that would impact the players' physical recovery.
While the loss to Toronto slowed Manitoba's playoff push a little, the team was coming off a 5-1-0-0 homestand.  The team's dominance at home is something Marco Dano believes sets an example of that these Moose can do in enemy buildings.
"We've got to find a way to bring that same energy and same focus for the games on the road. So, we had a great homestand, but now we've got to get back to it and regroup after this game (versus the Marlies) and play like we do at home and get some points on the road."
Dano returned to the lineup yesterday after missing two games with an upper body injury.  Manitoba has three points from two previous games against Laval, but both of those were played in Winnipeg.
The Moose play the Montreal Canadiens affiliate here in Quebec tomorrow night and Saturday afternoon, before shifting back to Toronto for another mid-week school day affair with the Marlies.  The trip wraps-up with a pair of games in Belleville.
Tune in to tomorrow's action on moosehockey.com, the Moose App or stream live on AHLTV.