March 7 Practice Report – Moose No Posers In Playoff Picture
By: Mitch Peacock | Published: March 7th 2019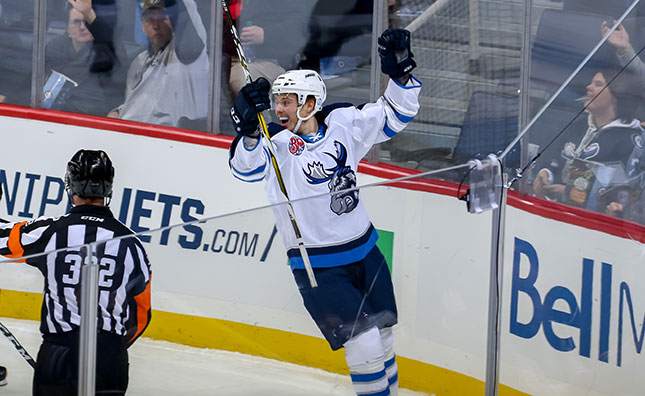 On the day the Manitoba Moose gathered under the bright lights at Bell MTS Place for their annual team picture, those in the photo had another picture in mind, the playoff picture.
Thanks to some improved play over the past few months, the club can smile knowing it's firmly in the frame for a post-season spot. Ten wins in their last twelve on home ice, and generally solid play since the holiday break, have the Moose six games above .500 since December 30. The club is four points from fourth in the Central Division with 18 games remaining.
The next six games on the schedule are set for downtown Winnipeg and feature central rivals Rockford and Texas over the first four matches of this stay in the city.
"It's a big homestand for us, and now we just have to make sure we're going to play our game every night and we're going to bring the best hockey we can produce," said winger Marko Dano after today's skate. "It's tight now in the playoff run so hopefully everyone's going to be on the same page and we're going to do this together."
Dano is a big part of Manitoba's success, contributing in a variety of roles and producing 19 points (9G, 10A) in 35 games after skating in 23 games for the Jets last season.
As for the playoff race, well, the Moose feel they've been fighting for their playoff lives after a challenging first half of the campaign  – and faring just fine – since just before the New Year.
"It's something that we've been kind of focusing on within the room, is that we know what the stakes are and we know that we're trying to make a playoff push," said defenceman Nelson Nogier following Wednesday's practice. "So every little detail matters, whether that's in practice or in a game, we've got to make sure that we're sharp with everything that we do."
The Moose host the Rockford IceHogs Saturday at 6 p.m. before the re-match Sunday afternoon at 2 p.m. It's a matchup of two teams who are not only close in the standings, but close head-to-head.  In two meetings this season, the Moose and Icehogs each have a win with both games decided by a shootout. For good measure there's some recent playoff history between the clubs with Rockford besting the Moose in last year's Central Division Final.
Put it all together and it makes for a pretty picture for hockey fans eager to get a look at some high-end action this weekend.
Tickets for this weekend are available at moosehockey.com/tickets.