Practice Report: Moose Battling AHL's Top Teams
By: Daniel Fink | Published: November 26th 2019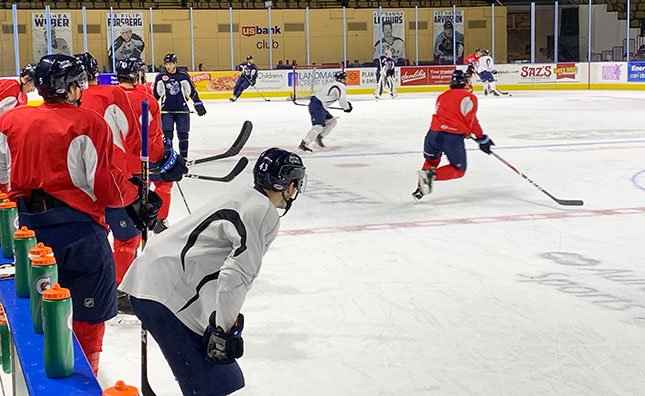 It was parade day in Winnipeg as the Blue Bombers celebrated their Grey Cup win with fans. In Milwaukee, Wis., Moose captain Peter Stoykewych expressed his excitement from afar.
"It's nice, the last time they won was in 1990 and I was born in '92. So it was the first time I've seen it in my lifetime," smiled Stoykewych. "I'm excited for them, happy for them and obviously the city's probably awesome right now and abuzz right now."
The Moose skated in Milwaukee today as they prepare to take on the league-leading Admirals tomorrow evening. Manitoba's hosts on Wednesday are winners of 10 straight games to reach the top of the AHL ladder. You can be sure the Moose would love to play spoiler tomorrow as the Admirals try to set a new franchise record for consecutive wins. It would also be big for the club to earn a couple points in their third straight game against a conference leader.
The Moose dropped a pair of games to the Toronto Marlies over the weekend. They lost 4-2 and 4-1 in the contests that were significantly tighter than the score might indicate. Momentary lapses for Manitoba were costly. Toronto scored two goals in a minute on Saturday. They then scored two goals 30 seconds apart on Sunday. The Marlies added a pair 26 seconds apart late in the game, though one of those was into an empty net.
The Moose ran into a similar problem their last time out against Milwaukee. After leading the game at 1-0, 2-1 and 3-2, Milwaukee rattled off four goals in a span of 13:35 spanning the second and third period. Not quite the quick back-to-back strikes suffered in Toronto, but still a period of time where Manitoba found itself behind a step.
That's what top teams can do. They take mistakes and quickly compound them for the opposition. So how do the Moose avoid those segments? Stoykewych feels it's a case of resetting quickly after giving up a tally.
"To give two goals up in succession there is always tough and then you have an uphill battle the rest of the way," the Moose captain explained. "We really just have to get back to our game right away and keep things simple after goals. If we can do that, then we'll eliminate those back-to-backs and be just fine.
The Moose will play three more games in their division to conclude their road swing. The team visits Grand Rapids, Chicago and Rockford. All teams Manitoba has bested so far this season. A high-powered Milwaukee club can serve as an opportunity for the team to show that not only can it play the top teams hard, like they did in Toronto, but come out with points in those contests. Defenceman Luke Green sees the opportunity as a chance for the team to get back to what made them so successful over a seven-game win streak.
"We've gotta prove we can play with anyone," said Green. "It's been a nice run here lately, but going forward here we need to get back in the win column and get back with how we're used to playing."
The Moose and Admirals clash at 7 o'clock tomorrow evening. Tune in to the game on moosehockey.com/listenlive, the Moose App and AHLTV starting at 6:45 p.m.
Don't forget to snag your tickets to see the Moose when they are back from this current road swing. The team faces off against Chicago on Dec. 6 and 7 at Bell MTS Place. The Dec. 7 game is the annual Teddy Bear Toss, presented by Red River Co-op, in support of the Christmas Cheer Board. Tickets are available at moosehockey.com/tickets.