Practice Report: Finally Underway
By: Daniel Fink | Published: October 17th 2023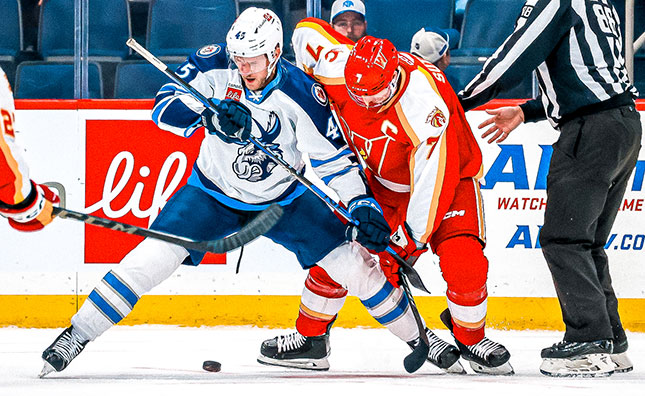 The Manitoba Moose hit the ice at hockey for all centre Tuesday for their first skate since earning an opening weekend split against the Calgary Wranglers. The Moose began with a 4-2 loss to the Wranglers on Friday and bounced back Sunday, coming back to win 3-2 in overtime. The pair of contests marked the end to a long wait for players following the summer months and, for many, a month of training camp.
"It's always fun to get things going again. Long summer, long training camp, working hard and just getting ready for that first game so it was nice to finally play somebody else," said Moose forward Dominic Toninato following practice.
Toninato picked up points in both games, including the overtime winner on Sunday. The Duluth, Minn. product has points in four straight games dating back to the 2022-23 campaign. Toninato set career highs across the board last season and is closing in on 100 points in his AHL career. The veteran centre saw the weekend as an important part of the process for one of the league's most youthful teams.
"We have a younger team so it was a good learning experience to get out of the way, I guess, in the first game and bounce back in the second game," Toninato told Austin Siragusa. "Getting down and being able to come back, that's building character and stuff we need going forward. Another learning process. Overall I liked our weekend, and it was good to get two points in that second game."
Toninato skated alongside a pair of those young players on Sunday with Brad Lambert and Parker Ford on his line. The elder statesman of the trio is excited to see the progression in players like Lambert who spent 14 games with the Moose in 2022-23.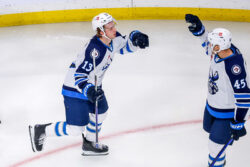 "I think he took a huge step from last year when we saw him. Obviously he's a very skilled player, very fast. He's a good guy to play with, get him the puck and let him do his thing," Toninato said with a grin. "But I like how he's learning. I like how he's taking his game to the next level here. He's getting better in the defensive zone which is really nice to see. I think if he continues this progress, he's going to have a long career."
The Moose have a couple more practice days before welcoming the Iowa Wild to Canada Life Centre this weekend. The Central Division rivals clash Friday (7 p.m.) and Saturday (6 p.m.) in downtown Winnipeg.
Tickets are available at MooseHockey.com/TICKETS.