Sept 28 Practice Update
By: Mitch Peacock | Published: September 28th 2018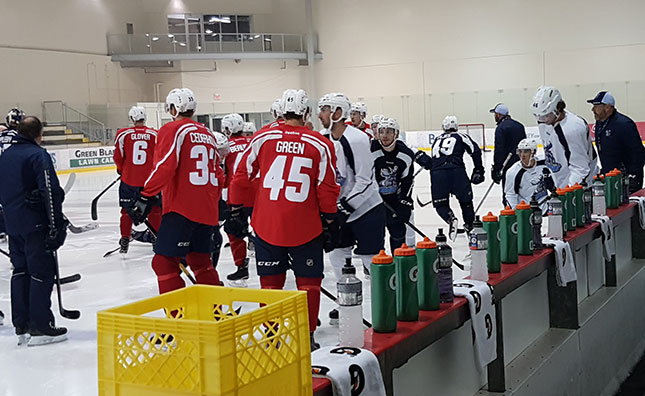 The Manitoba Moose are two days into training camp after a spirited session lasting nearly 90 minutes at Bell MTS Iceplex today.
The workout saw Pascal Vincent and his staff cover systems material like the forecheck structure, after dealing with defending line rushes on day one, but a clear cut theme for a second straight day was one-on-one competition.
With only a few skates before Saturday night's intrasquad game, and no pre-season games scheduled, the club is doing all it can to get a good look at all players before having to make roster decisions.
Twenty-one players have been skating early in camp, 10 on PTO's, but that number will grow with the Jets assigning 10 players Friday morning and five more needing to go through the waiver process before being eligible to skate with the American Hockey League club.  Click here for the full list of players heading to the Moose.
Forward Ryan White is among those in camp on a try-out and the veteran of more than 300 NHL games.  White is determined to make an impression after an AHL season split between San Diego and Iowa.
"Coming down from the big league it's a little bit disappointing I think at times, and I think after spending the year down (in the AHL), it's a little bit better mindset coming into this year and being excited to play hockey again and have some fun."
The Brandon product split the season-before-last between Arizona and Minnesota, and broke into pro hockey with the Hamilton Bulldogs back in 2008-2009.
Fellow forward Joey Ratelle is in camp on an AHL deal, and after skating for the Jets at the Young Stars Classic in Penticton, he's motivated to secure a spot in the Moose lineup for the regular season opener Friday, Oct. 5 in Des Moines, IA.
A sentiment backed-up when asked after today's skate if he's looking forward to the intrasquad game tomorrow night.
"Oh yeah, of course! You have to play it like it's an exhibition game against another team. Obviously It's players from the same team, but on the ice you have to see it as a enemies and you want to make a spot so you have to play like it's a real game."
Ratelle and the rest of the camp roster practice tomorrow morning before facing-off in that highly anticipated game tomorrow night at 6 p.m. at Bell MTS Iceplex, a game that's free of charge and open to the public.