Practicing on the road
By: Mitch Peacock | Published: January 26th 2017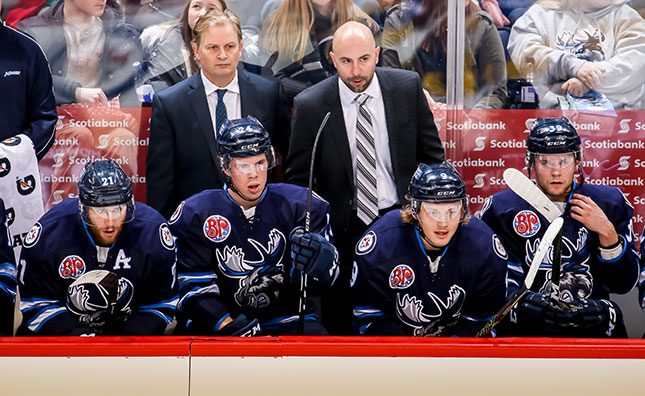 The Manitoba Moose are in the midst of a six-game road trip taking the team south through Texas and east to North Carolina.  It's one of two lengthy trips this season, and they're grueling for the players and staff.  There are the demands of preparing for and playing games at such a high level, with hours of travel added on top.
However, there's more to the story than games and travel.  As the Moose work to develop each player to his potential, and build a winning environment, practice is essential.
So how does the team practice with everything else that's going on?
TIME MANAGEMENT EXPERTS
Head Coach Pascal Vincent and his staff put a great deal of thought into scheduling.  A plan is put together well ahead of any portion of the schedule to be sure the players are pushed, well-prepared, but also rested.
This trip is highlighted by the six games in two states over a couple of time zones.  Also factored in is a day of recovery for the players and three practices over the 13 days.
"It's the same for everybody so it's just a matter of finding different ways and being creative in the way we teach," said Vincent after a recent practice in San Antonio. "Going on the ice is the best option – obviously – but when it's not there we find ways."
And what are those ways?
Well, they are many and varied. Video is a key component of much of the teaching, and players spend a lot of time with the coaches off the ice.  There are one-on-one meetings (player/coach), team meetings with the coach(es), meetings centered around a forward line or defence pairing, and gatherings for special teams (penalty kill and power play).
In the case of this trip, developmental goalie coach Rick St. Croix is on hand to support Eric Comrie and Jamie Phillips with video work and tech talks over and above any on-ice time.
VALUABLE SESSIONS
When the team does get an on-ice workout during a lengthy spell on the road, it's all about making that time count.  Vincent emphasizes pace, execution, and efficiency to get the team ready for its next game and help each player take another step forward.
Second-year defenceman Peter Stoykewych made the jump from the NCAA (Colorado College) and quickly adapted to the demands of the American Hockey League.
"On the road you don't get an opportunity to practice a whole lot.  When you do, you have to take advantage of it getting things done that you need to do to kind of, iron out the wrinkles that you need addressed and you move forward and get yourself ready to play those games."
It's a difficult balancing act for the coaching staff.  One, you might say, that is part art and part science.  Clearly, it's a challenge Pascal Vincent enjoys and one he approaches with one goal in mind.
"The goal of a practice is to get better, but not at the cost of costing any hockey games so we want to build the energy in practices, and in our time off, to have the energy level that is needed to win a hockey game. It's a learning curve because every group is different."