Roslovic Enjoying the Ride
By: Mitch Peacock | Published: October 24th 2016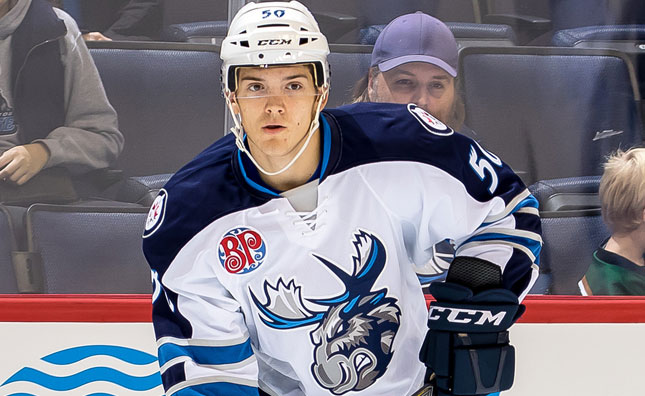 Jets' first rounder Jack Roslovic has had a busy few months, but early indications are he's adjusting quite nicely to life in pro hockey.
At just 19 years-old the Columbus, Ohio product has gone from college student in his home state to American Hockey League player in another country – but it's all just part of an ongoing journey for the talented prospect.
IMPRESSIVE PATH
He may be new to the pro ranks, but Jack Roslovic is no stranger to playing elite hockey with top-end talent.
Just two seasons ago he counted Auston Matthews and Matthew Tkachuk as team mates with the United States National Team Development Program.
And, that same season, Jack helped the U.S. to the gold medal at the World under-18 Hockey Championship.
Then, to top things off, he was selected 25th overall by the Jets at the 2015 NHL Entry Draft.
From there it was off to NCAA Division 1 play with Miami (Ohio) University where he grew his game against bigger, stronger players and picked up 26 points in 36 games along the way.
DECISION TIME
That whirlwind brings us to this past summer when Jack made the decision to sign with the Jets and leave college life behind.
"It was a lot of talk between the Jets and I, and you know the whole thought of my development path and they thought it would be a good step for my career and you know I think I agreed with them. You know, now that I'm here – no turning back. "
And there's a real conviction in Roslovic's voice when he says that, he's a young man on a mission to see just how good he can be.
It's an approach that means learning whatever lessons come up along the way, on-and-off the ice, lesson like those presented in his time at Miami (Ohio).
"It gave me a really good sense of time management – being able juggle a lot of things at the same time," said the centre after a recent practice. "The short hockey schedule was definitely a plus, but I think that's another reason why I left was to get that long game schedule and really just focus in on hockey. But, it definitely taught me a lot of great life lessons."
ENJOYING THE JOURNEY
Even though it seems like Jack has been through a lot in a short time, he's not fazed by it all. In fact, he's enjoying it – though there is something to be said for being able to establish himself in Winnipeg.
"It's definitely been fun. It's been quite a ride and, you know, I'm ready to settle down and get into the competitiveness of the long season that we have here and can't wait to see what's ahead."
What's ahead includes moving beyond the comforts of campus and meal plans, but that's not an issue for Roslovic.
Jack got a taste of a new level of independence this past summer while living in an apartment at Miami (Ohio) and he says cooking is one of the things he enjoys most during his down time.
"I love to cook, so I make a few good meals – maybe play some X-Box, watch some TV, it's just whatever I feel like doing that day."
Off to a strong on-ice start, he's been using games to cook up trouble for opposing defences while in practices he's often spotted working with more experienced team mates to continually improve – impressive for a young man living life at a hectic pace.
You can keep up with Jack Roslovic's by visiting moosehockey.com\tickets or by listening live on moosehockey.com or TSN 1290.