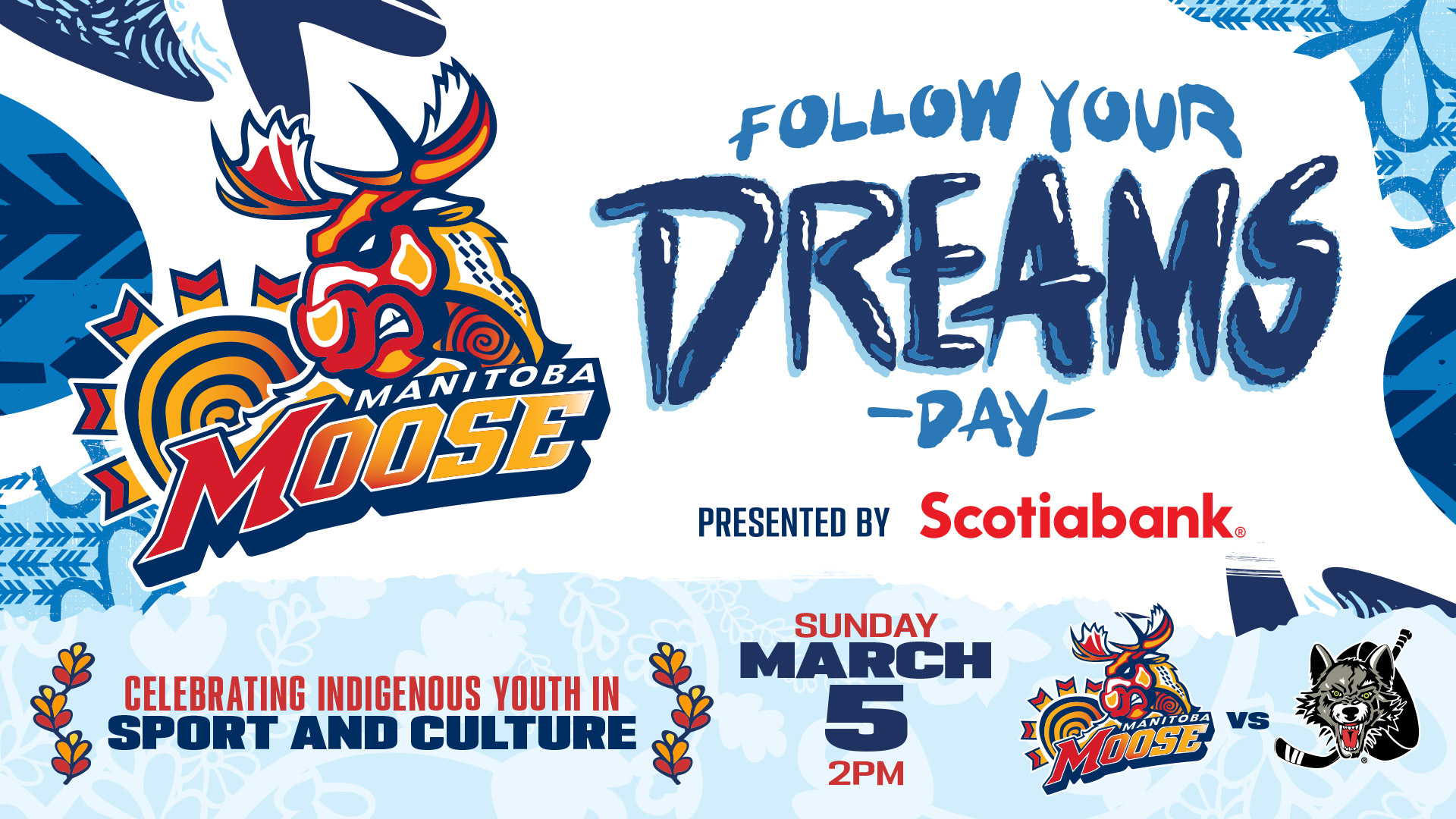 The Manitoba Moose Follow Your Dreams initiative is the result of a longstanding relationship dating back to the days of the Moose 1.0 team between True North Sports + Entertainment and Winnipeg Aboriginal Sport Achievement Centre (WASAC) – an organization helping to develop leadership and mentorship skills for Indigenous youth through sport, recreation, and cultural programs. The evolution of that relationship has led to the Manitoba Moose celebrating Indigenous sport and culture in a more formal way as an extension of the NHL's This is Hockey initiative that promotes diversity and inclusion in the sport.
As part of past Follow Your Dreams initiatives, the Moose have worn jerseys featuring an Indigenized version of their logo designed by Cree graphic designer and WASAC graduate Leticia Spence. They have also welcomed youth from northern and remote communities to their annual Follow Your Dreams game, giving those youth the opportunity to interact with Indigenous NHL alumni during their stay in Winnipeg.
Indigenous culture is an important part of Manitoba's culture and of Canada's culture, making Follow Your Dreams Day an important event on the Moose calendar each year.
This year's Follow Your Dreams Day is Sunday, March 5 when the Moose face the Chicago Wolves at 2 p.m. The Moose are excited to present a special Plains Cree broadcast of the game. Further details are available at MooseHockey.com/fyd-livestream. The game will also be available in english on 680 CJOB, the Winnipeg Jets App and a special free broadcast on AHLTV.
True North Sports + Entertainment Land Acknowledgement
Canada Life Centre is located on Treaty One lands, the original territories of the Anishinaabe, Cree, Oji-Cree, Dakota, Lakota, Dene peoples, and the homeland of the Red River Metis.
True North Sports + Entertainment proudly acknowledge our role in the many relationships that make up our home and commit to a spirit of reconciliation for the future.
Click here for more information