Cormier's hat trick leads to Moose win
By: Chris White | Published: February 17th 2016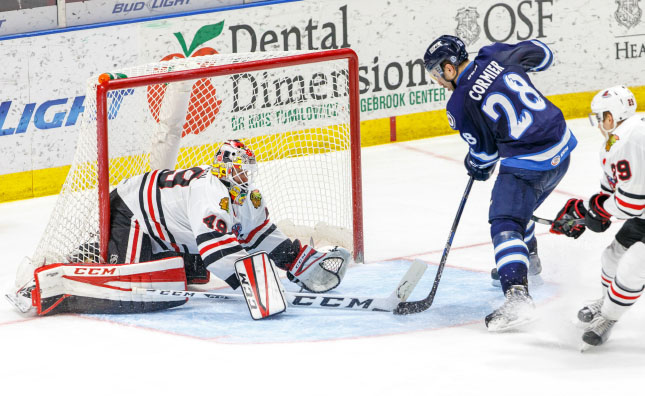 A change of routine might have been just what the Moose needed and that's just what they got by playing the Rockford IceHogs in a rare school day game with a start time of 10:30 a.m. on Wednesday.
The Moose might have been a bit sluggish at the start as they gave up a shorthanded goal to Rockford's Tanner Kero at just the 3:52 mark of the first, but let's call that not being quite awake after hitting the snooze button.
After that point the Moose settled in and played an excellent road game.
It started with a JC Lipon goal just minutes later that shifted the momentum Manitoba's way.
The goal was Lipon's 10th of the season and with an assist later in the contest the Regina native now has two goals and eight assists for 10 points in his last five games.
In the final two periods it was Patrice Cormier who took over.
Cormier recorded a hat trick by scoring an even strength goal, a powerplay goal and ended with a shorthanded goal to help seal a 5-2 Moose victory.
It was Cormier's second career AHL hat trick and the second one for the Moose this season after Chase De Leo had one back on Dec. 19 versus Milwaukee.
John Albert also scored by creating a turnover in his own end, going the other way and scoring on a breakaway. With his goal and assist in the contest, he has at least a point in six of the last seven Moose games during the month of February. In that span he has four goals and three assists for seven points.
Goaltender Connor Hellebuyck won his second straight game since returning to the Moose lineup from the Winnipeg Jets last Friday. He made 30 saves today and now has a 2.34 goals against average and .930 save percentage in the AHL this season.
Manitoba continues to have success on special teams as of late.
The Moose scored a powerplay goal for the third straight game, matching a season high for consecutive games with a powerplay goal. In their last three games the Moose powerplay has gone five-for-eight, scoring at a 62.5% clip.
For the fourth straight game the Moose were perfect on the penalty kill, a season high. They are 15-for-15 on penalty kills in their last four games and matched a season high by killing off seven powerplay opportunities by the opposition in the game against Rockford.
The Moose won their first regulation game on the road since Dec. 1 in Milwaukee. The win snaps a road winless streak of 0-10-2-1.
They will face the Rockford IceHogs in a rematch this coming Friday, Feb. 19 at 7 p.m. again at the BMO Harris Bank Center.