Hellebuyck named to Team North America
By: Chris White | Published: March 2nd 2016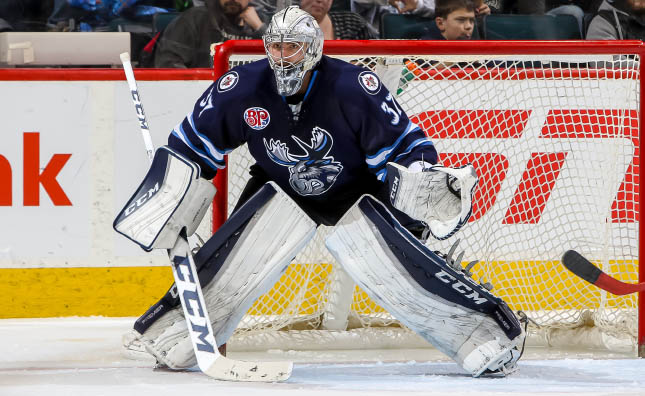 Manitoba Moose goaltender Connor Hellebuyck has been named to the initial roster for Team North America's Under-24 team for the World Cup of Hockey 2016.
Hellebuyck, 22, has played 16 games with the Moose this season posting a 2.27 goals against average and a .931 save percentage.
The native of Commerce, Michigan also has a 13-11-1 record with two shutouts and a 2.34 goals against average with the NHL's Winnipeg Jets this season.
Eight teams — Team Canada, Team Czech Republic, Team Finland, Team Russia, Team Sweden, Team USA, Team Europe and Team North America — will compete in the two-week tournament, featuring more than 150 of the best players in the NHL. All tournament games will be played at Air Canada Centre in Toronto.
Each of the eight teams will have a tournament roster of 23 players: 20 skaters and three goaltenders. The balance of each team's roster will be announced no later than June 1, 2016.
The World Cup of Hockey 2016 is a joint effort of the National Hockey League and the National Hockey League Players' Association, in cooperation with the International Ice Hockey Federation (IIHF). The eight teams are split into two Groups, Group A and Group B, for the Preliminary Round (Sept. 17-22), when each team will play its three Group opponents in a round-robin format. Placed in Group A are Team Canada, Team Czech Republic and Team USA, plus Team Europe, a pan-European roster of players from birth countries outside of the Czech Republic, Finland, Russia and Sweden. The four teams in Group B are Team Finland, Team Russia, Team Sweden and Team North America, a selection of the top players from Canada and the United States who are 23 or under as of Oct. 1, 2016.