Game Preview: Moose @ Marlies – Dec. 5
By: Chris White | Published: December 5th 2015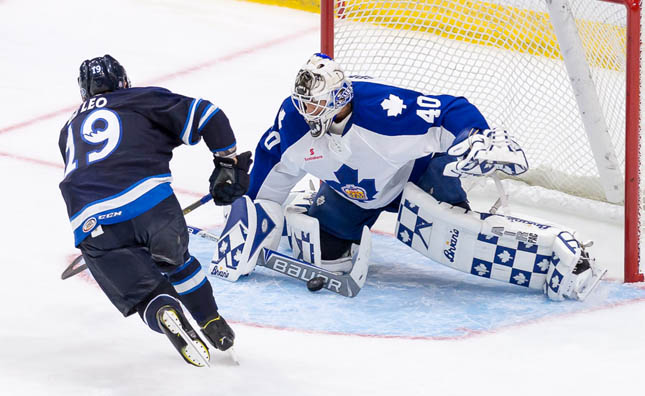 MANITOBA MOOSE @ TORONTO MARLIES
Ricoh Coliseum – Toronto, ON
Saturday, December 5th, 2015
Game time – 4 p.m. CT
Moose Game 20 (5-12-1-1)
Moose Road Game 12 (3-7-0-1)
Listen: MooseHockey.com/listenlive
Watch: AHLLive.com
The Manitoba Moose face the Toronto Marlies for their third of eight meetings this season. The Marlies currently lead the season series 2-0-0-0 after the two teams met on opening weekend of the season Oct. 9 & 10 in Toronto.
Previous Season Meetings:
The Moose and Marlies faced off in back-to-back games to open the season in Toronto. Both games were tightly contested battles of the newly formed groups. The Marlies secured a 5-3 victory in the opener with an empty net goal with Josh Leivo leading the way with three points (1G, 2A) while Sam Carrick (1G, 1A) and William Nylander (1G, 1A) each had two points in their season debuts. Former Marlies defenceman Jay Harrison had two goals for the Moose in the contest.  In the second game it was Manitoba forward Ryan Olsen who scored with just 1:51 to play in the third to tie things up. The game would eventually end on a Byron Froese shootout goal giving the Marlies a 3-2 victory. Eric Comrie made 39 saves in the Moose net including 20 in the first period alone to keep the Moose in it and was named the game's second star. This is remains the only game this year for the Moose that was decided in a shootout.
Showing Improvement:
The Moose have shown improvement and that has translated to more wins. Four of the team's five wins have come in the last ten games where they have a 4-6-0-0 record. In their last 10 games they have averaged 2.3 goals per game which is a significant jump when compared to their first nine games where they averaged just 1.2 goals per game. This season the Moose have averaged 2.5 goals for per game against the Marlies, this matches their highest total against any one team matching what they have done against the Charlotte Checkers.
Lipon in Lead:
JC Lipon continues to lead the Moose in scoring with six goals and seven assists for 13 points in 19 games this season. He extended his point streak to five games with an assist on Wednesday night in Chicago and has posted has two goals and four assists during this span. In his last ten games he five goals and five assists for 10 points.
Head-to-Head Players:
So far in the season series no player has scored more in the head-to-head matchups between these two teams besides Marlies forward Josh Leivo who has three points (1G, 2A). Jay Harrison scored two goals for two points and he leads the Moose scoring against the Marlies along with Brenden Kichton and JC Lipon who each scored a goal and an assist in the first two games of the season series.