Game Preview: Moose @ Reign – Jan. 30
By: Chris White | Published: January 30th 2016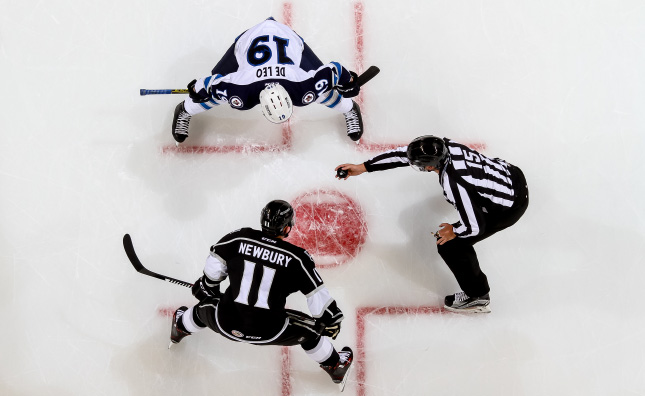 The Manitoba Moose will face the Ontario Reign for the second time in California and for the final time in the regular season. This is the fourth meeting between these two teams this season as Ontario leads the season series 3-0-0-0.
Leading After Two:
Friday night's game against Bakersfield was the first time the Moose have lost a game when leading after two periods of play. So far this season the Moose have a record of 8-1-0-1 when leading after 40 minutes.
Raffl – Finding His Game:
Forward Thomas Raffl showed signs of once again finding his groove in the Moose lineup over the last two games against Bakersfield. Raffl has had some tough luck with some significant injuries this season and has only dressed in 15 of the 42 Moose games so far this season. The native of Austria recorded an AHL career high two assists in the game this past Tuesday and followed that by scoring a shorthanded goal against the Condors last night. It was the third shorthanded goal scored by the Moose this season.
Petan's Point Streak:
Forward Nic Petan is currently on a four game point scoring streak. He had an assist last night and also had two assists on Tuesday against Bakersfield. He has a goal and four assists for five points during this current streak. Petan is second on the Moose in assists with 17 despite starting the season with the Winnipeg Jets where he played 14 games. The native of Delta, BC was highly touted as a playmaker coming into his first AHL season. While in junior hockey, Petan recorded 248 assists in 252 games in the Western Hockey League with the Portland Winterhawks. Petan leads the Moose with a .74 points per game average.
All-Star Goaltending:
Eric Comrie has been sensational in the Moose net this season and was rewarded for it earlier this week by being named to the AHL All-Star Classic. Comrie replaces teammate and fellow goaltender Connor Hellebuyck who is currently playing with the NHL's Winnipeg Jets. Comrie is well deserving the honour as he is leading the league in saves with 900. Keep in mind only two other AHL goaltenders have more than 800 saves to this point in the season.