Game Preview: Moose vs. Wolves – Nov. 13
By: Chris White | Published: November 13th 2015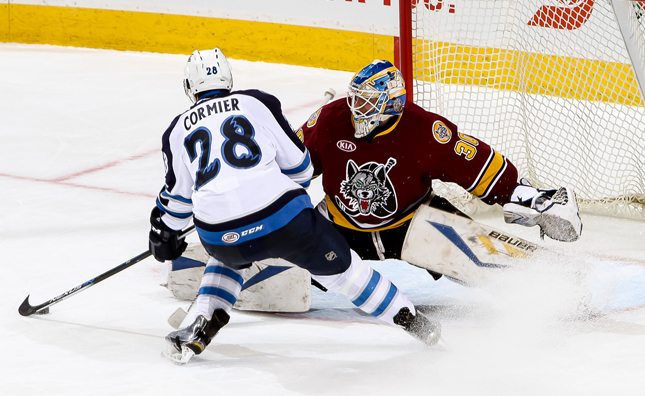 MANITOBA MOOSE vs. CHICAGO WOLVES
MTS Centre – Winnipeg, MB
Friday, November 13th, 2015
Game time –7 p.m. CT
Moose Game 13 (2-8-1-1)
Moose Home Game 6 (0-4-1-0)
Listen: MooseHockey.com/listenlive
Watch: AHLLive.com
The Manitoba Moose will face their long-time rivals the Chicago Wolves in a rematch of Thursday night's contest at the MTS Centre. Tonight is "Share the Warmth" night presented by Red River Co-op. Fans attending the game are encouraged to donate new or gently used winter wear as they enter the game. The clothes will then be distributed to those in need this winter season.
For more information visit the "Share the Warmth" page on the Moose website by clicking here
Game One Recap
The Moose arguably played one of their best games of the season on Thursday night. Manitoba outshot the Wolves 36-19 and seemed to have the puck more often than not. Two quick goals :90 seconds apart in the third period sunk the Moose by a 5-3 score. Patrice Cormier, Chase De Leo and Jiri Fronk had Manitoba's goals. Jeremy Welsh had two goals while Petteri Lindbohm, Evan Trupp and Ivan Barbashev had the others for the Wolves.
Moose Season Bests:
The Moose outshot an opponent for the first time this season on Thursday night against the Wolves. The total of 36 shots was the most the Moose have had in any one game this season. They also held Chicago to just 19 shots on Thursday which is the lowest total the Moose have given up in any game this season.
Chasing Points
Manitoba's Chase De Leo has been heating up lately. He is currently on a three game point streak and scored his first career AHL goal last night. The California native leads all Moose rookies in scoring with one goal and six points in 12 games this season.
Lipon Keeps Rolling:
Moose forward JC Lipon had a big pair of matches last weekend for the Moose scoring three goals in two games versus Charlotte.  He is now on a three point scoring streak of his own after recording an assist in last night's game against Chicago. He had a AHL career high nine goals in the 2013-14 season.  He is currently on pace to score over 25 goals.
Leading Scorer:
Brenden Kichton recorded an assist on Thursday and continues to lead the team in scoring with eight points (2G, 6A) in 12 games played. He is currently tied for 7th among AHL defencemen in scoring and has points in back to back games.
Rookie Fronk:
Moose forward Jiri Fronk recorded his first career point last Saturday against Charlotte. He then scored his first AHL goal last night on an impressive breakaway chance in the third period.