Game Preview: Moose @ Wild – Feb. 24
By: Chris White | Published: February 24th 2016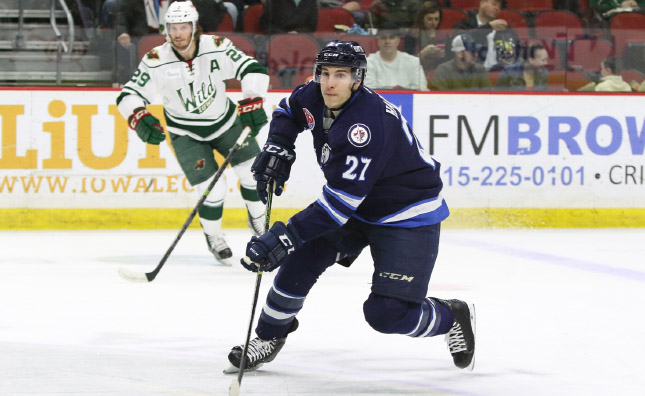 The Manitoba Moose will face the Iowa Wild tonight in the fourth of eight meetings between these two teams this season. The Moose have a 1-1-0-1 record through the first three games of the season series. This is Manitoba's first trip to Iowa and second game in Iowa this season.
Line Chemistry:
The line of John Albert – Patrice Cormier – Matt Halischuk have spent the majority of this month playing together. During February they have combined for 11 goals, 15 assists and for 26 points in 10 games. Albert has been playing his best hockey of the season scoring five goals and three assists for eight points in 10 games. Cormier has four goals in his last four games and has nine points in the 10 games this month. In his last five games Halischuk has eight points (2G, 6A).
Team Lead:
Rookie forward Chase De Leo scored his team leading 15th goal of the season on Monday against Iowa. He currently leads the Moose in scoring with 15 goals and 15 assists for 30 points in 53 games. De Leo is one of just 14 rookies in the AHL with 15 goals on the season. He currently sits 15th in AHL rookie scoring and leads all rookies in shots on goal with 133.
Fellow Rookie Scorer:
Fellow Moose rookie Nic Petan extended his point streak to three games with an assist on Monday. In 10 games this month he has five goals and four assists for nine points. In total, Petan has eight goals and 21 assists for 29 points in 38 games in the AHL this season. He started the season in the NHL with the Winnipeg Jets playing 14 games and scored his first career goal in his first career game on opening night of the season on Oct. 8 in Boston against the Bruins. He leads all Moose players with a 0.76 points-per-game average.
Rookies on Top:
De Leo and Petan currently sit first and second on the Moose in scoring this season making Manitoba the only team in the AHL who has two rookies as the top two scorers on the team. San Antonio (Mikko Rantanen) and San Diego (Brandon Montour) are the only other teams that have a rookie leading their team in scoring this season.