Moose Alumni Connor Hellebuyck Named Vezina Trophy Finalist
By: Manitoba Moose Staff | Published: July 17th 2020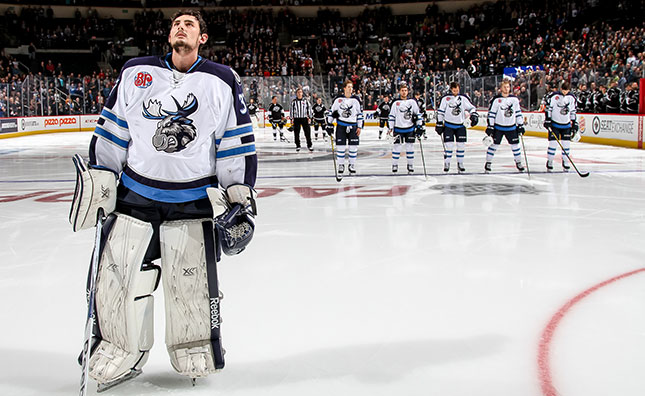 The Winnipeg Jets Hockey Club, in conjunction with the National Hockey League, announced that Winnipeg Jets goaltender Connor Hellebuyck is among the three finalists for the 2019-20 Vezina Trophy, which is awarded "to the goaltender adjudged to be the best at his position".
Hellebuyck, 27, backstopped the Jets to a place in the Western Conference Stanley Cup Qualifiers, leading all goaltenders in games (t-58), shots faced (1,796), saves (1,656), and shutouts (6). The Commerce, Michigan native ranked second overall in starts (56), wins (31), and minutes (3,268:33). Hellebuyck recorded 31 of the 37 Jets wins (83.8%), the second-highest percentage among goaltenders on the 24 teams set to resume play.
Hellebuyck faced 37-or-more shots on 13 occasions and posted a 10-1-2 record, 2.08 goals-against average, and a .949 save percentage in those contests. That includes a career-high 51 saves in a 3-2 win at San Jose on Nov. 1/19 where he set the franchise record for saves in a period with 27 in the second frame.
Hellebuyck, Winnipeg's fifth round pick (130th overall) in the 2012 NHL Draft, is a Vezina Trophy finalist for the second time in three seasons (runner-up in 2017-18) and is seeking to become the first goalie in Jets/Thrashers franchise history to win the award.
The winners of the 2020 NHL Awards will be revealed during the Conference Finals, with exact dates, format and times to be determined.
Hellebuyck appeared in 88 AHL games with the Moose/IceCaps, posting a 41-37-6 record to go with a 2.55 goals-against average, a .921 save percentage and 10 shutouts. The former Moose netminder ranks third on the franchise list in save percentage and shutouts, while claiming the eight-best goals-against average. Hellebuyck holds the distinction of being the only Moose alumni to be named a finalist for the Vezina Trophy.