Moose run into hot goaltender against Monsters
By: Chris White | Published: October 24th 2015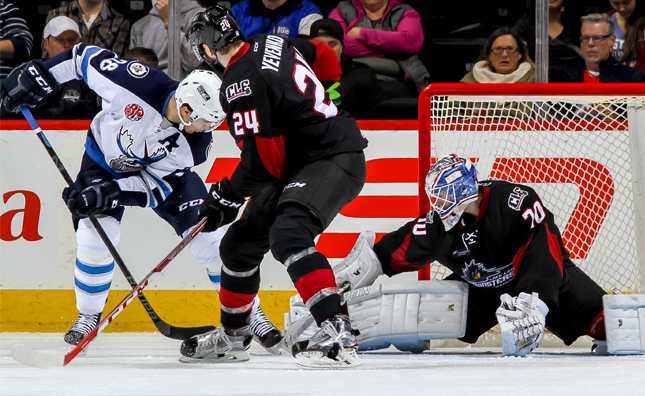 For the young Moose team it was a game of tough luck as they faced the Lake Erie Monsters in the second game of their series on Saturday night at the MTS Centre.
Manitoba had a good bounce game, generating plenty of scoring chances but with one problem, Lake Erie's goaltender Joonas Korpisalo.
Korpisalo is red hot posting back-to-back shutouts in his two appearances this season and is the only AHL goaltender to not have let in a goal to this point in the season. He stopped all 29 shots by Manitoba.
On the Moose side Eric Comrie had an excellent game of his own in his second start of the season making 30 saves.
The only two goals to get past Comrie came off deflections in front by Lake Erie Captain Ryan Craig in the first and Michael Chaput in the third period which led to the 2-0 Monsters win.
Comrie continues his strong start to the year, solidifying an elite goaltending tandem for the Moose. He is now ranked eighth in the AHL with a 1.94 GAA and is sixth in save percentage with an impressive .945.
The Moose will be heading on the road for a five game road trip where they will face the Milwaukee Admirals (Oct. 29), Chicago Wolves (Oct. 30/Nov. 1) and Charlotte Checkers (Nov. 7/8).
Manitoba's next home games will be played on Nov. 12 and 13 when they host the Chicago Wolves in a two game series.
Post Game Reaction
Head Coach Keith McCambridge
Eric Comrie
Josh Morrissey
JC Lipon