Moose shutout Rampage
By: Chris White | Published: March 4th 2016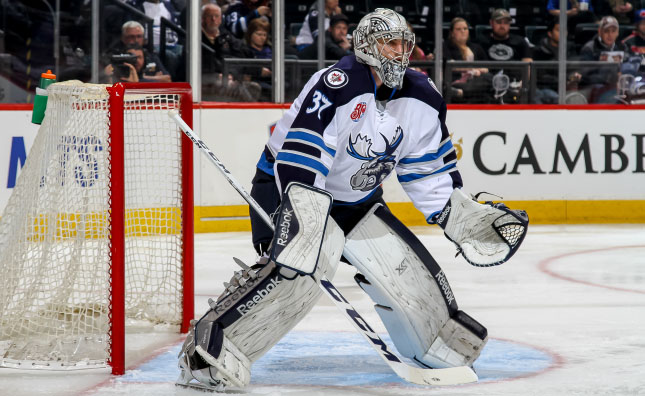 The Manitoba Moose used a total team effort on Friday night to defeat the San Antonio Rampage by a 3-0 score at the AT&T Center.
The Moose played without key players JC Lipon and Josh Morrissey who were recalled by the Winnipeg Jets earlier in the day, and were without Team Captain John Albert who missed the game due to a lower-body injury.
Manitoba had a goal in each period from Austen Brassard, Scott Kosmachuk and Ryan Olsen who scored into an empty net in the third period to seal the victory.
Brassard extended his point streak to three games with his 13th goal of the season and added an assist later in the game. The native of Windsor, Ontario now has three goals and three assists for six points in his last three games.
Connor Hellebuyck continued his strong play making 26 saves to pick up his second shutout of the season. He now has a 4-3-0 record since returning from the Winnipeg Jets. In those seven games he has a 1.73 goals against average and a .946 save percentage.
He was named to the Team North America under-24 team for the World Cup of Hockey 2016 this past Wednesday.
Special teams were once again a strength for the Moose.
Manitoba scored a powerplay goal for the fourth straight game. In their last 11 games the Moose powerplay has gone 10-for-37 for a success rate of 27.0%.
On the penalty kill, the Moose went a perfect six-for-six in the game. In their last 11 games they have killed off 46 of their last 50 penalties, good for 92.0%.
The Moose now have a record of 6-3-1-0 in their last ten games. Each of their losses in that stretch has been by just a single goal.
Manitoba now leads the season series against the Rampage with a 3-0-0-0 record this season. The two teams will play once more in the regular season in the second to last game of the regular season on Apr. 15 in San Antonio.
The Moose will be back in action when they finish the brief two-game road trip against the Texas Stars on Saturday night at the Cedar Park Center at 7 p.m.