Preview: First Crack at the Eagles
By: Colin Peterson | Published: December 30th 2018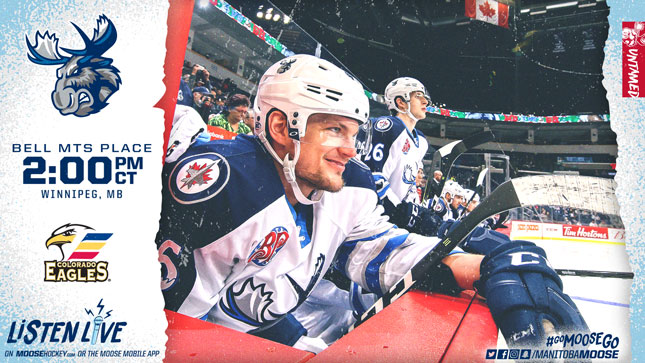 Dec. 30, 2018 vs COLORADO EAGLES
The Manitoba Moose (11-16-2-0) take on the Colorado Eagles (15-10-3-1), for the first time ever, today at 2 p.m. CT. The Eagles are in their inaugural AHL season as the new affiliate for the Colorado Avalanche, playing in the Pacific Division. Tickets for this afternoon's game or tomorrow's New Years Eve rematch are available at moosehockey.com/tickets/.
Manitoba comes into today's action without a point in their last four games. The Moose could see as many as three players return from injury as Seth Griffith, Ryan White, and JC Lipon were all full participants in yesterday's practice.
Lipon, an alternate captain and energy leader with the team has been looking forward to getting back in the lineup.
"It sucked watching games, especially when your team's struggling a bit. It'll be fun to get back in there… I feel like that week, the holiday week helped out a lot. I felt a lot better definitely [for] the skates after."
Part of dealing with all the injuries and roster changes has been a struggle for the team to find offence. It's been six games (Dec. 5) since the team has scored more than twice in a game, part of the reason they find themselves last in the AHL in scoring.
Lipon expects to be part of the solution in that regard as well.
"There's lots of ways to score goals. We're going to be a team that it's going to come from hard work and that's what I like to do, so hopefully I'll score some goals too."
The benefit to all the injuries is the opportunity for some other players to step up. The AHL is a development based league and Moose scoring leader, Logan Shaw, mentioned the chance for skater to prove themselves.
"It's part of hockey and I think it's good for myself and other players as well to be put in different situations that they normally wouldn't be put in. It helps you grow your game and mature as a player. Playing in all different situations 5-on-5, 5-on 4, 4-on-4, I think it's all been great. It's a learning process right now."
If you can't make it to the game, tune in on moosehockey.com/listenlive/, the Moose App, or stream the game live on AHLTV. The 4 p.m. New Years Eve rematch with the Eagles is also the club's Shutout Hunger game, presented by Red River Co-op, in support of the Manitoba Association of Food Banks. Fans who bring non-perishable food items or a cash donation and will be entered to win an autographed Manitoba Moose jersey or tickets to future Moose home games.