PREVIEW: Taking on the Admirals
By: Colin Peterson | Published: February 3rd 2018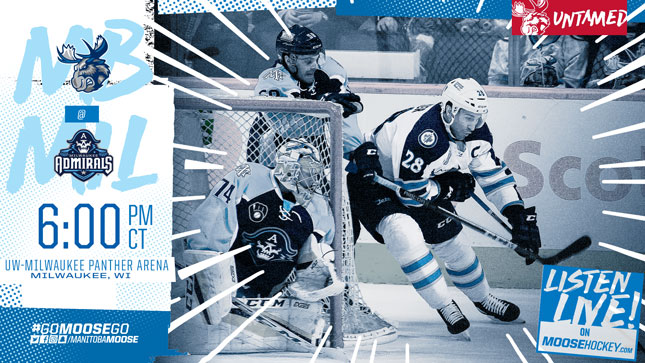 The Manitoba Moose (30-10-3-2) continue their road trip, tonight, against the Milwaukee Admirals (21-19-4-0). Coming into tonight's matchup, Manitoba has at least a point in their last 12 away games, and have won four straight. They're heading into Milwaukee where the Admirals have lost their last five. That means, for the Moose to improve on their 18-4-1-0 road record, they'll have to top a desperate Milwaukee squad. You can catch Mitch Peacock and all the action on moosehockey.com/listenlive/ with the pregame show starting at 5:45 p.m. (CT).
FRANCHISE MARKS
The Moose made some franchise history last night in Rockford. Manitoba matched a franchise record with its 30th win in just 45 games, matching the pace of the 2008-09 Moose. The team also recorded 50 shots on goal yesterday to set a new franchise mark for shots in a road game. The Moose were just two shots shy of matching the overall franchise record of 52 shots last reached on Dec. 29/00 vs. Kansas City.
300 GAMES
Moose forward JC Lipon played his 300th game last night in Rockford, recording two shots on goal. Through the first 300 games of his career, Lipon has totaled 146 points (48G, 98A) and 579 penalty minutes. Lipon scored a goal in his AHL debut with St. John's on Oct. 4/13 against Providence. In addition to his 300 AHL contests, Lipon has also appeared in nine NHL games with the Jets tallying one assist.
BACK-TO-BACK ATTACK
The Moose have found plenty of success in the second game of back-to-back sets, posting a 12-2-1-0 record in those games. Manitoba has outscored the opposition by a 53-30 count in the 15 contests so far, this season. The Moose already have a pair of wins against the Admirals (Nov. 25 and Dec. 10) in the back-half of games on consecutive nights.
BIG LINE PRODUCTION
The combination of Patrice Cormier, Nic Petan and Mason Appleton has been potent during the past five games. Since the line was formed, Petan (2G, 7A) and Appleton (4G, 4A) are on five-game point streaks, while Cormier (3G, 4A) is on a four-game run. The three have combined for nine goals and 24 points in five games. Petan (7pts), Cormier (6pts) and Appleton (6pts) finished last week one, two and three in AHL scoring.
THE KOSTA SUCCESS
Jan Kostalek came through with his first goal of the season last night in Rockford, which pulled the Moose into a 2-2 tie with the IceHogs. In addition to his goal, Kostalek also tied for the game-high in shots on goal with six – the most in his career.
WHAT'S NEXT?
The Moose get a few days off before finishing the two-game set with Milwaukee. They'll take on the Admirals again Tuesday, so catch the 7 p.m. (CT) puck drop on moosehockey.com/listenlive/.