Preview: Moose at Laval – Feb. 19
By: Daniel Fink | Published: February 19th 2020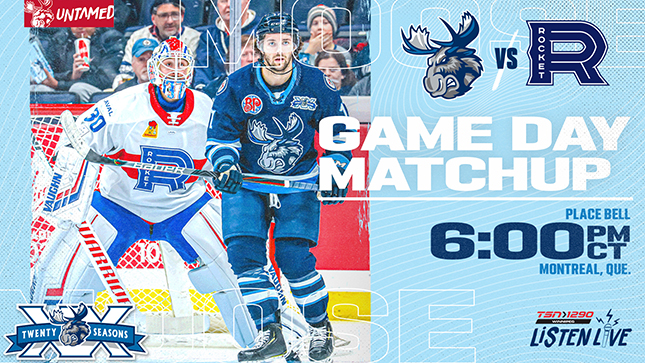 Moose at Laval – Place Bell – 6 p.m. CT
Broadcast: TSN 1290, moosehockey.com/listenlive, AHLTV
The Moose open a three-game road swing through Eastern Canada this evening at Place Bell in Laval. Manitoba faces off against the Rocket for the third time this season. The Moose are 1-1-0-0 against the Montreal Canadiens' AHL affiliate this season. Both previous matchups came at Bell MTS Place in Winnipeg.
The last time the two teams faced off saw the Moose barrel their way to a 5-1 victory. Kristian Reichel, C.J. Suess and Cole Maier all scored at even strength while JC Lipon struck shorthanded and Michael Spacek tallied on the power play in the victory. Josh Brook scored the lone Laval marker playing in front of friends and family in Manitoba. Mikhail Berdin made 40 saves in the victory as the Moose were outshot 41-23 despite their lopsided margin of victory.
The Moose come into tonight's matchup following a split against the Milwaukee Admirals on home ice. Brent Pedersen scored the winner and Eric Comrie made 35 saves in a shutout Moose win on Saturday. The Admirals responded on Monday afternoon with a 4-1 win before a sold out crowd of over 8,800 at Bell MTS Place. Meanwhile, the Rocket have struggled to pick up points in recent games. Laval has dropped five straight games and has one win in its last 10 outings.
Offence has been the issue for both teams over the past five games. Neither team has scored more than two goals in their last five games. Both have suffered shutout defeats in that span. A return to friendly territory might be what the Rocket are looking for though. Laval has scored three or more goals in seven consecutive home games dating back to Dec. 28. Meanwhile the Moose might be looking forward to a rematch with the Rocket as Laval was the last team the Moose scored more than three goals against in a game.
The visitors might have something else going their way this week. The Moose roster features four Quebec products. Charles-David Beaudoin, Alexis D'Aoust, Jimmy Oligny and Emile Poirier all hail from La Belle Province. Oligny and Poirier each have an assist against the Rocket this season while the Moose are 6-3-0-1 versus Laval with Vincent and Dubois behind the bench.
"It's always nice to come home and see the family, and it's always nice to play here for me. I have a lot of family and friends in town," said Poirier, who hails from Montreal and will have plenty of friendly faces in the stands. "The main focus is to get those two wins I think we're coming for that and we'll try to get that."
Coverage of tonight's game on TSN 1290, moosehockey.com/listenlive and AHLTV gets going at 5:45 p.m. CT.