Preview: Good Morning, Marlies
By: Colin Peterson | Published: February 20th 2019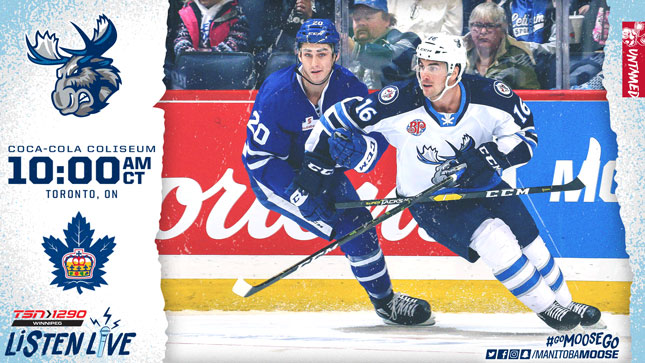 Feb. 20, 2019 vs TORONTO MARLIES
The Manitoba Moose (25-22-3-2) have embarked on a six-game road trip through Eastern Canada, starting with the Toronto Marlies (27-18-5-3) this morning at 10 a.m. CT. Moose fans across the country will be able to watch the game today on TSN2.
The Moose left the friendly confines of Bell MTS Place, where the team has gone 12-3-0-1 since the Marlies visited Winnipeg on Dec. 14 and 15.  Toronto won both those games, by a total score of 12-3, with Jeremy Bracco leading the way to the tune of six points (2G, 4A).
Manitoba has been an entirely different team after taking a break over the holiday season, sporting a 14-6-1-2 record since Dec. 30. Heading into today's matchup, the Moose are boosted by another successful homestand that ended with a split against Milwaukee.
Head Coach Pascal Vincent spoke after Monday's win about the character his team showed in bouncing back from their first regulation home loss of 2019 in a see-saw 6-5 final the afternoon prior.
"Lots of heart in this room. We didn't like the first 12 minutes of the game [Sunday]. Other than that, we did a good job. Even watching the game afterward, we had good scoring chances yesterday… We came back in the game and we wanted to keep that momentum. We had good confidence today; coming out the proper way."
Logan Shaw scored twice on Monday, his team leading 21st and 22nd goals of the season. Second tally also tied Shaw with Mason Appleton for the team lead with four game-winning goals.
Of Shaw's 22 markers, only eight were scored at Bell MTS Place, so the Glace Bay, NS native will be a leader for the Moose on their road swing.
"This is a huge road trip for us. The biggest thing for us, just thinking about it quickly, is that we have to just play simple. We don't have to impress anyone on the road. We can keep everything simple, play smart, play our game, and not worry about what they're going to do."
Shaw (2G, 2A) and linemate Seth Griffith (1G, 3A) are currently on three-game point streaks, while Michael Spacek has found the scoresheet in his last four outings (2G, 3A).
Today's game, and the rematch in Toronto next week begin at 11 a.m. local time, some of the earliest start times the Moose have scheduled this season. Shaw was asked about what kind of challenge the morning games pose.
"You're up earlier obviously, but I don't mind the games. You wake up and you go play, you don't have to think about the game at all. There's pros and cons to it obviously, but that's our practice time normally anyways. We're up and we're skating at that time on any given day, so I think we'll be alright."
The next stop for the Moose is Laval for back-to-back games this weekend (Feb. 22/23). Friday's matchup (6:30 p.m. CT) will be available on moosehockey.com/listenlive/, the Moose App, and streaming live on AHLTV. Saturday's rematch (2 p.m. CT) will be broadcast on those same channels as well as on TSN 1290.