Preview: Redo with the Rocket
By: Colin Peterson | Published: February 23rd 2019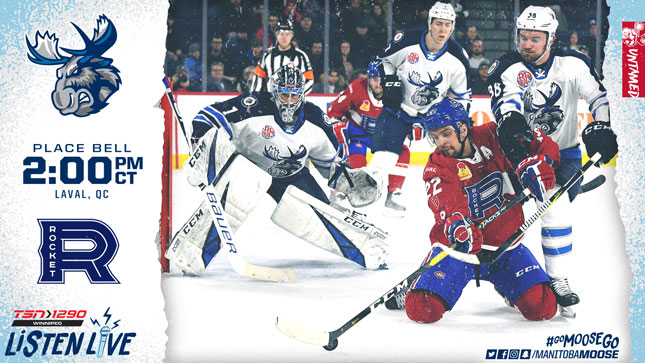 Feb. 23, 2019 vs Laval Rocket
The Manitoba Moose (25-24-3-2) are looking for revenge this afternoon, against the Laval Rocket (22-24-5-4). Today's 2 p.m. CT game will be available on TSN 1290, moosehockey.com/listenlive/, the Moose App, and streaming live on AHLTV.
The Moose fell 3-0 last night in the third meeting of the season with the Rocket. Manitoba is 1-1-0-1 against Montreal's AHL affiliate after a win and shootout loss just over one month ago at Bell MTS place.
The Moose are 5-1-0-1 against the Rocket since the team moved to Laval and are 2-1-0-0 at Place Bell. The Rocket scored last night's shutout win on the strength of 24 saves from Michael McNiven and goals from Cale Fleury, Lukas Vejdemo, and Maxim Lamarche.
For Manitoba, the alternate captains put the most pucks on net. JC Lipon (5) and Cameron Schilling (4) combined for 37.5 per cent of the team's shots.
The real key to the Moose getting a win might be getting their power play going. Manitoba couldn't convert on any of their six advantages in Friday's game. The last Moose power play goal came five games and 14 chances ago.
Forward Logan Shaw spoke about the PP unit after practice on Thursday.
"It can get hot and cold, but I think in order to win you have to start scoring goals on the power play. Special teams in general is one of the biggest factors in winning and losing. For us to pull through it's just about, again, keeping it simple, knowing our roles on the power play and we've just got to start shooting the puck more and getting more pucks to the net."
In comparing the two teams this season, Jansen Harkins is the highest scorer with four points (2G, 2A) between the three games. Daniel Audette leads Laval with three points (2G, 1A).
McNiven's shutout was his first start against Manitoba this season, Charlie Lindgren guarded the net in both other games against the Moose, splitting those starts. Comrie was in the Manitoba net for all three matchups, recording a 0.915 save percentage and a 2.60 goals against average.
The Moose head back to Toronto after today's game, for a rematch of Wednesday morning's game with another 10 a.m. CT puck drop. That game will be carried on the usual channels as well as available for Moose fans to watch on TSN2.