Preview: Taking Off to Texas
By: Colin Peterson | Published: January 2nd 2019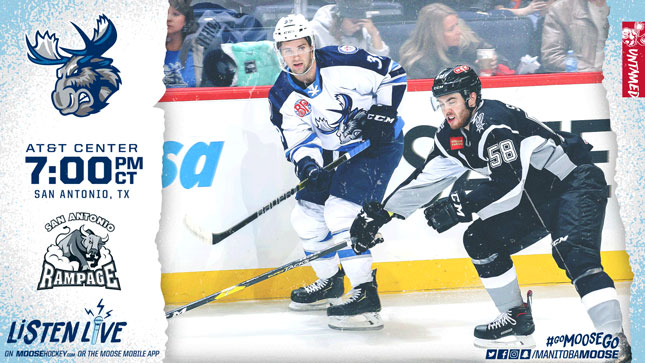 Jan. 2, 2019 vs SAN ANTONIO RAMPAGE
The Manitoba Moose (13-16-2-0) are back in Texas where they'll take on the San Antonio Rampage (15-17-1-0) at 7 p.m. CT. You can tune into tonight's game on moosehockey.com/listenlive/, the Moose App, or streaming live on AHLTV.
The Moose have dominated the Rampage in Winnipeg since they made their return to the prairies, winning all eight meetings with San Antonio at Bell MTS Place. That unbeaten streak includes the two matchups earlier this season (Oct. 19/21) which the Moose won by scores of 4-1 and 6-3, respectively.  It's been a different story in the Lone Star State where the St. Louis Blues affiliate scored a 5-0 win on Nov. 13. The Moose have won four of seven contests in San Antonio giving them a record of 12-3-0-0 against the Rampage since making their return to Winnipeg.
Before heading down south, the Moose ended a season-long five-game losing streak in style by sweeping the Colorado Eagles 4-0 and 4-1 in their previous two outings
Forward Alexis D'Aoust scored the game winner on New Year's Eve with the club's first shorthanded goal of the season. D'Aoust thought the overall surge in play was from the return of some of Manitoba's injured players.
"We put a great effort out there this weekend, with great leaders coming back into the lineup and helping us a lot. I think we worked really hard this weekend, we played as a team, and it showed out there."
JC Lipon and Seth Griffith are the players being referenced. Between Lipon scoring a goal and registering six shots, and Griffith posting two assists, the pair made an impact in the games versus Colorado.
Forwards Brent Pedersen (2G) and Felix Girard (2A) are on two-game point streaks, while veteran Tye McGinn has a helper in each of his last three appearances.
The real star of the back-to-back against the Eagles, however, was Eric Comrie. The Manitoba goaltender not only started both games, but stopped 69 of 70 shots he faced, many of them high-quality chances. The Edmonton, Alta. native also registered his seventh career shutout and first of the season.
Head Coach Pascal Vincent described what's working for Comrie lately.
"One goal in two games… He's been really good. His ability to go from one post to the other and to control the low part of the ice is really good. We've seen that from his first year coming here, but he keeps getting faster and faster."
The Moose play two more games in Texas before returning to Winnipeg for a six-game home stand. Tune in this weekend (Jan. 4/5) when Manitoba take on the Texas Stars. Puck drop is at 7 p.m. both nights, with the pre-game show starting 15 minutes earlier.