Preview: Bottling Up the Rocket
By: Colin Peterson | Published: January 10th 2019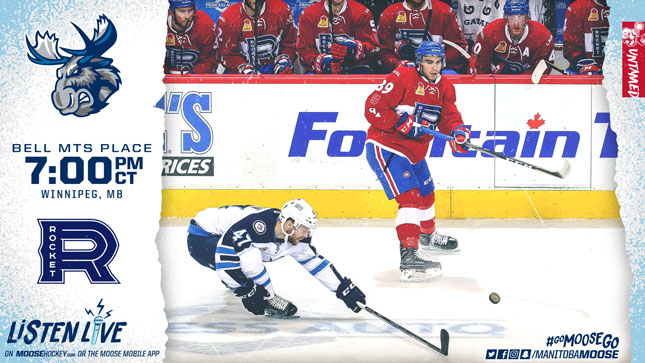 Jan. 10, 2019 vs LAVAL ROCKET
The Manitoba Moose (14-18-2-0) start off a six-game home stand tonight, with the first of two games against the Laval Rocket (15-16-3-3) at 7 p.m. CT. Tune in for the pre-game show 15 minutes before puck drop on moosehockey.com/listenlive/, the Moose App, and streaming live on AHLTV.
The Moose are coming off a three game trip through Texas which finished with a 3-2 shootout win over the Stars. Goaltender Eric Comrie summed up the road swing and how getting a payoff at the end of it makes a difference for his club.
"We played really well. Maybe not so great the first period in San Antonio, but other than that we had a really good road trip. We really bounced back in that second period in San Antonio and carried it really throughout the whole trip. I was really pleased with our team's effort. To get those two points at the end was huge for us, and just really a confidence builder."
Comrie didn't play in the win over the Stars with Ken Appleby getting his first victory in a Moose jersey. However, Comrie's numbers since returning from the holiday break have been the backbone to the team's improved showing.
Comrie has stopped 129 of 135 shots in his past four appearances, good for a 0.956 save percentage and recorded his first shutout of the season. The Edmonton, Alta. native's 0.917 overall save percentage is his best since turning pro four years ago. Comrie also sits second in the AHL with 673 saves in 2018-19. He spoke about what's working for him right now.
"Whether it's being in the right position, how I get to the position, making sure I'm set and just little things like that. Make sure those little details are right, and then you're setting yourself up for the best possible opportunity to make that save."
The team itself continues to change as the second-half moves along. Jimmy Oligny is the newest member of the club, joining the team in Austin for the last two games of the Texas trip. Oligny gets his first chance to play at Bell MTS Place for the home team tonight.
Oligny notched his first Moose point, an assist, on Peter Stoykewych's late, game-tying goal that led to the win against the Stars. Fellow defenceman Cameron Schilling has played Oligny many times over several seasons in the Central Division. He explained what his new teammate has brings to the Moose.
"I've probably played against him a lot, just with Rockford and being here. He's a good solid defenceman bringing a little more experience to our d-core which is great. I think he had a really good contribution to our team and our success of the Texas trip."
The Moose and Rocket rematch Saturday, Jan. 12 is also Military Appreciation Night. The club will wear specialty jerseys to honour the Canadian Armed Forces. Those jerseys will be auctioned off during the game and online to support the Hubbell Awards. Those in attendance will also be treated to a special game experience. Head to moosehockey.com/tickets/ for tickets to all home games.