Preview: Time for the Admirals
By: Colin Peterson | Published: January 14th 2019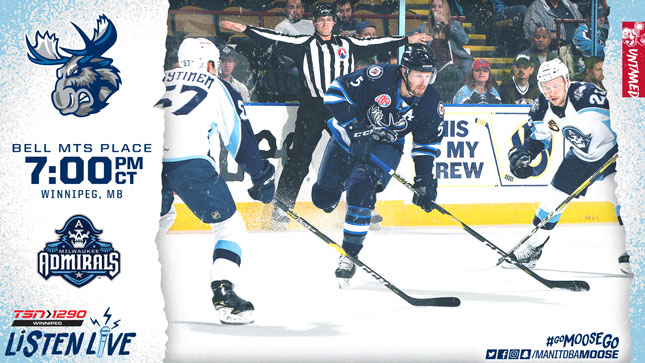 Jan. 14, 2019 vs MILWAUKEE ADMIRALS
The Manitoba Moose (15-18-2-1) continue their homestand against the Milwaukee Admirals (19-14-5-1) tonight at 7 p.m. CT. This evening's game will be available on TSN 1290, moosehockey.com/listenlive/, the Moose App, and on AHLTV.
With a 4-0 win and a 6-5 shootout loss to Laval, the Moose are 3-0-0-1 at Bell MTS Place since the holiday break. Monday's game will be the first time the Admirals and Moose clash in Winnipeg this season.
Scoring has seen a boost since the holiday break. In the 29 games before Christmas, Manitoba tallied 67 goals, or an average of 2.31 per game. In the seven games since returning, the Moose have averaged three markers per contest, with 21 goals. The numbers are even more impressive at home where Manitoba has 17 goals in the last four contests (4.25 per game), compared to 34 goals over the previous 14 matchups at Bell MTS Place (2.43 per game).
Regardless of who is doing the scoring, forward Felix Girard says the most important thing is the team picking up points.
"I think we are pretty happy about the weekend. Right now we're focusing on picking up points every game and trying to make a push for the playoffs. We got three out of four this weekend, so ready to move on with the series against the Admirals, here."
Jansen Harkins had three points in four home games against Milwaukee in 2017-18. Harkins has been dangerous lately, scoring a goal and an assist in each of the last two games. Not including the shootout winner the North Vancouver, BC native scored against Texas, Harkins has six points (4G, 2A) over his last seven appearances. That brings the Jets' 2015 second round pick (47th overall) within one point of his career high of 13 points, in 11 less games than he played last season.
Head Coach Pascal Vincent spoke about the second-year forward after Saturday's game.
"He's more confident. He's stronger on the puck. I think for Jansen it's all about confidence. He's got some tools, some great tools, to create some things offensively. You've seen this goal on the power play was a heavy shot and the accuracy was pretty good. So he's got this potential to do those things, it's just a matter of being confident to do it more consistently."
The game against Laval also featured the return of Tucker Poolman to the team. After a 17-game absence due to injury, Poolman recorded an assist on Jansen Harkins power play marker continuing a three-game point streak. He said he felt good despite the time away.
"It was good, I felt better as the game went on and on. Coach said they'd work it on slow and we had seven D out there. It was good."
The homestand continues Wednesday night (Jan. 16) in a rematch with Milwaukee. Head to moosehockey.com/tickets/ to join the Moose fans for all the game at Bell MTS place, but don't forget the upcoming Grassroots Hockey Day (Jan. 19) and Star Wars Day (Jan. 20) against the San Antonio Rampage.