FAST FACTS: Moose vs. Wild – Jan. 4
By: Manitoba Moose Staff | Published: January 4th 2022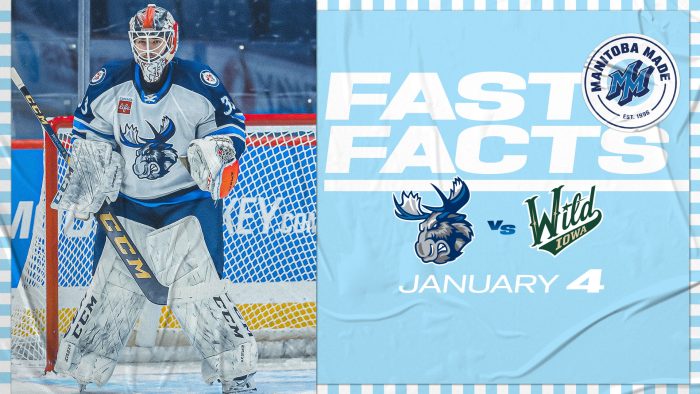 The Moose and Wild clash in a rematch of Sunday's 2-1 Manitoba victory. Despite missing key forwards and both regular goaltenders, the Moose struck out to a 2-0 lead and held off a late push from the Wild. Now Manitoba tries for the sweep before heading out on a lengthy road swing. A reminder that today's game at Canada Life Centre will be played with no fans in attendance. Tune in to the game on CJOB.com/sports, the Manitoba Moose App or AHLTV.com. Coverage beings at 6:45 p.m. CT.
Home Sweet Home
After tonight's matchup, the Moose won't be back on the ice at Canada Life Centre until Jan. 22 when they host the Chicago Wolves. With Sunday's win, Manitoba moved to a 10-2-0-0 record on home ice. The Moose are tied for third in the league in home wins and are third in the AHL for points percentage (.833) at home. The Moose have allowed just 28 goals in 12 home contests, while scoring 40 times. That plus-12 goal differential is tied for forth in the AHL.
Blue Line Prowess
The Moose defence corps has been one of the team's biggest strengths this season. Declan Chisholm has been one such bright spot. The defenceman scored his sixth of the year in Sunday's 2-1 win over the Iowa Wild. With that point, Chisholm has now set a new professional career high of 14 points (6G, 8A) in 26 games. The Bowmanville, Ont. product's six goals lead the Moose this season and  also tie him for the league lead in goals from defencemen alongside Colorado's Jordan Gross and Iowa's Joe Hicketts. Defencemen account for 20 of Manitoba's 80 goals scored this season.
Leader Hitting Milestones
Defenceman Leon Gawanke is in the middle of a productive campaign with the Moose. The Berlin, Germany product now leads the Moose with 17 points (4G, 13A) in 26 games this season. Gawanke's four goals matches his career-high and the defenceman is currently on track to set a new career-high in points. The previous mark was set during the 2019-20 season when he recorded 26 points (4G, 22A) in 48 games. The defender also celebrated a recent milestone by suiting up for his 100th AHL contest on Jan. 2 against Iowa. Gawanke has 50 points (9G, 41A) in his first 100 outings.
Burgeoning Burgess
Forward Todd  Burgess has been on  a tear the last handful of games. The Phoenix, Ariz. forward recorded the game-winning goal in the most recent Moose win on Sunday against Iowa. Burgess has four points  (2G, 2A) in three games in his recent streak and is now up to five points (3G, 2A) on the season through 12 games. Prior to getting the call to the Moose, Burgess made his professional hockey debut with the ECHL's Newfoundland Growlers where he recorded three goals in three games.
Dynamic Debut
Goaltender Evan Cormier signed a professional tryout with the Moose prior to Sunday's game and made the most of the opportunity. Cormier turned away 29 of 30 Iowa shots on the way to his 11th career AHL victory. The Bowmanville, Ont. product has 38 career AHL games to his name with an 11-21-4 record, supported by a 3.26 goals-against average and a .894 save percentage. This season, Cormier holds a 10-2-1 mark with a 2.58 goals-against average and a .902 save percentage for the ECHL's Newfoundland Growlers.
Who's Trending?
Forward Thomas Caron recorded his first professional assist in the 2-1 win over the Wild on Sunday. The Candiac, Que. product is in the midst of his first pro season and has recorded two points (1G, 1A) in 16 contests. Prior to making turning pro, Caron suited up for the 146 games with the QMJHL's Quebec Remparts, recording 72 points (31G, 41A).