Preview: Moose vs. Chicago – March 1
By: Daniel Fink | Published: March 1st 2020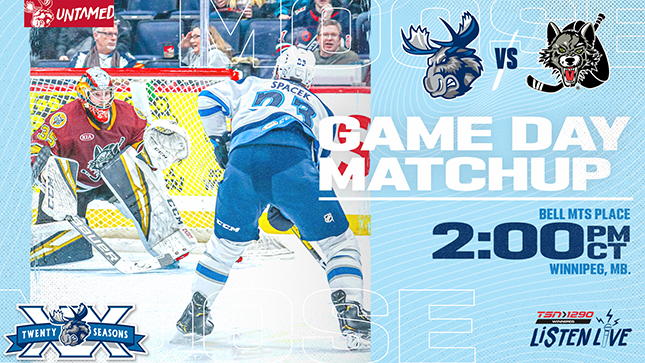 Moose vs. Chicago – Bell MTS Place – 2 p.m. CT
Broadcast: TSN 1290, moosehockey.com/listenlive, AHLTV
Tickets: moosehockey.com/tickets
The Moose and Wolves do battle for the second straight afternoon after Manitoba claimed a 3-2 overtime win in yesterday's matchup. It's Autism Awareness Day, presented by Red River Co-op, in support of St.Amant at Bell MTS Place. The Moose will wear specialty puzzle-piece themed jerseys which will be auctioned off on the concourse and online following the game. The team is also selling plush moose toys featuring a miniature replica of the jersey for $20. Proceeds support the St.Amant Foundation.
Despite outshooting the Wolves 25-14 through 40 minutes of play, the Moose trailed 1-0 heading to the third. Kristian Reichel took care of that issue, scoring his 11th of the season just eight seconds into the third. JC Lipon gave the Moose a 2-1 advantage 5:15 into the frame. Paul Cotter tied things up for Chicago with just a couple minutes left on the clock and Oscar Dansk robbed Seth Griffith late to force overtime. Leon Gawanke went end-to-end to score the game-winner just 50 seconds into the extra frame. It was the second time this season a Moose rookie defenceman scored in overtime against the Wolves.
"It was a great team effort," said Reichel after the win. "I think we played a really solid 60 minutes of the game. We didn't give up much and we capitalized on our chances."
Speaking of that overtime winner, the Moose rolled out Kristian Vesalainen, David Gustafsson and Gawanke for the overtime frame. Every member of that trio is still eligible by age to play in junior this season. Instead, Vesalainen is fourth on the Moose with 27 points (10G, 17A) in 57 games, Gustafsson appeared in 22 NHL games this season and has three points (1G, 2A) in 10 games with the Moose and Gawanke ranks eighth among the AHL's rookie defencemen with 23 points (3G, 20A). Gawanke also leads Moose defenders in points and assists this season.
"I don't care about the age of the players. We have a young team, okay that's fine, but I don't really care. If you can play the game the way it should be played… if you're 19 years old or 28 years old, I really don't care," said Moose head coach Pascal Vincent yesterday. "When I asked Eric (Dubois) who was going on 'D', he said Leon is the guy who is most ready, he's fresh at that moment. (Gustafsson) is really good on faceoffs, and you want to have the puck right away, and there's some chemistry between him and Vesalainen and we want to keep working on it. So we had basically three junior players on the ice, but they're good players and they scored so it's even better."
Gustafsson recorded two assists in the win, skating on a line with Vesalainen and Reichel. His helper on Reichel's third period tally was the first of Gustafsson's professional career in North America. The Tingsryd, Swe. native recorded his second assist soon after on Gawanke's overtime goal. The pair of assists mark Gustafsson's first North American professional multi-point game. The 2018 second round pick's assists were his first points at Bell MTS Place since joining the Winnipeg Jets organization. Gustafsson has three points (1G, 2A) in his last four games.
JC Lipon's goal was the 80th of his career with the Moose/IceCaps. The tally pulled him even with Lee Goren for fifth on the franchise's all-time goal list. The two are also tied for the most goals by a right winger in franchise history. Lipon already sits atop the leaderboard for assists and points by a right winger and ranks third in franchise scoring with 221 points (80G, 141A). The Regina, Sask product comes into this afternoon's action having played 449 games in the AHL. By reaching 30 points in yesterday's game, Lipon has recorded at least 30 points and 100 penalty minutes in four seasons.
Tickets for this afternoon's tilt are available at MooseHockey.com/TICKETS. Coverage of the game on TSN 1290, moosehockey.com/listenlive and AHLTV gets rolling at 1:45 p.m. with puck drop scheduled for 2 p.m.