Preview: The Stars Stop By
By: Colin Peterson | Published: March 13th 2019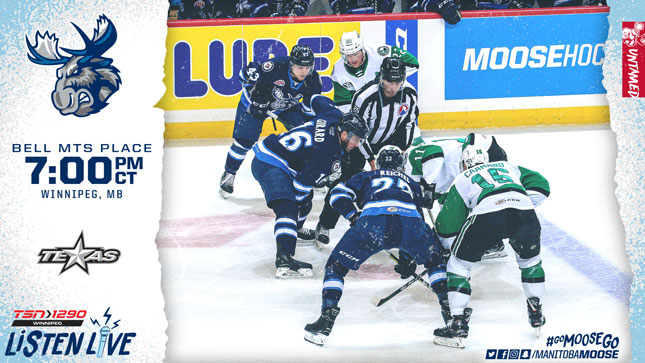 March 13, 2019 vs Texas Stars
The Manitoba Moose (29-26-3-2) start a two-game series against the Texas Stars (30-25-4-3), tonight at 7 p.m. CT. Tickets for the crucial Central Division matchup are available at moosehockey.com/tickets.
Tonight's clash is the sixth of the season between the two clubs. Texas currently sits in fourth place in the division, the final playoff spot, adding extra incentive for both teams.
The Moose are 4-1-0-0 against the Stars this season, including sweeping a two-game series at Bell MTS Place just over one month ago. Both the earlier series against Texas and this past weekend's two-gamer against Rockford are part of Manitoba's stretch of sweeping six of the last eight series they've played in downtown Winnipeg.
Defenceman Logan Stanley, who is second on the team in rookie scoring, mentioned that winning back-to-back games is a boost emotionally, but doesn't change how the team prepares for their next outing.
"We start fresh, but you also have that confidence from the last two games. We know these are huge points, these are playoff games for us. We're going to coming out hard and playing with confidence."
Since Dec. 30, Manitoba is 14-1-0-1 at Bell MTS Place, outscoring opponents 57-29. Goaltender Eric Comrie is 16-4-1 at home this season, with a 2.40 goals-against average and a 0.935 save percentage.
Head Coach Pascal Vincent said the clubs calm, deliberate approach has been a big factor in their success in Manitoba.
"We feel pretty good in our building. We feel confident in the way we play the game. The last game we were trailing by one and there's no sense of panicking on the bench. We know what we have to do, and we believe in our structure. If we stick to our systems and we work extremely hard then the success will come."
In Texas, the Moose face the AHL's second best power play, although Manitoba's penalty kill has held them to two goals on 11 opportunities this season. Travis Morin is a big part of that unit and has four points (1G, 3A) against the Moose in 2018-19.
Stanley said that it's a team effort to play defense, and that maintaining their structure will be key.
"They've got a really good team, one of the top power plays in the league. We're going to have to be disciplined and ready to play. It's going to be two big games for us."
Tune in to Mitch Peacock and the pre-game show at 6:45 p.m. CT on TSN 1290, moosehockey.com/listenlive/, the Moose App, and streamed live on AHLTV. The Moose and Stars will face off again on Friday night (March 15) at 7 p.m. CT with tickets available at moosehockey.com/tickets.