PREVIEW: Game 2, Round Two with Rockford
By: Colin Peterson | Published: May 5th 2018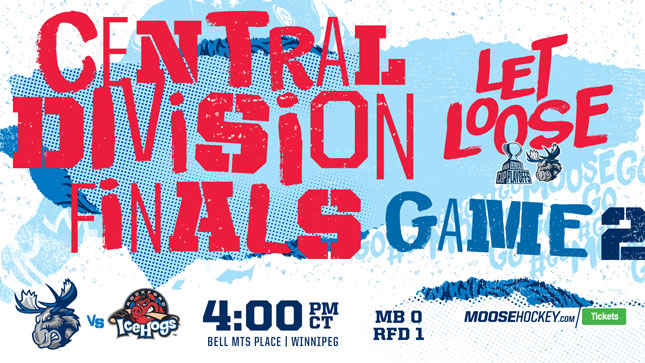 The Manitoba Moose (3-3) and the Rockford IceHogs (4-0) resume the Central Division Finals this afternoon, less than 24 hours after it began at Bell MTS Place. Manitoba will try for their first win of the series while the IceHogs are hoping to stay undefeated this post-season. The puck drops at 4 p.m. (CT) and you can get tickets at moosehockey.com/tickets/. Fans are also encouraged to bring a non-perishable food item to donate to Winnipeg Harvest.
THE WAITING IS THE HARDEST PART
Forward Michael Spacek is eligible to return to the Moose lineup after serving his three game suspension handed down following Game 3 of the Central Division Semi-Finals.  Prior to his suspension, the rookie had a point in all three games he played, including a game-winning goal.  With 10 power play goals in the regular season, and one in the playoffs, Spacek could be a key contributor to the Moose power play which hasn't scored in nine opportunities since he was removed from the lineup.
ONE DOWN
Rookies C.J. Suess and Tanner Kaspick both checked off a milestone last night with their first playoff points.  The pair of assists both came on Jan Kostalek's third period marker.  For Suess, his first playoff point came in his third game.  Kaspick, a St. Louis Blues prospect on loan to Manitoba, was making his professional debut.  It's the second time in these playoffs a Moose player recorded his first point in his debut after Skyler McKenzie scored in his first game.
EVERYONE'S IN ON THE ACTION
With Suess and Kaspick tallying points, the list of Moose players who have recorded a point in six Calder Cup Playoffs games is up to 19 skaters.  That leaves just four skaters who have appeared in a post-season game and have yet to record a point.  A total of 12 players on the roster have scored at least one post-season goal, while five skaters have scored twice.  It shouldn't come as any surprise the Moose are sharing around the scoring after 11 players reached double digits in goals and 12 posted at least 30 points during the regular season.
THE MELCH-MAN DELIVERS
Julian Melchiori picked up his third assist in four playoff games last night.  The veteran defender returned to the Manitoba lineup for Game 3 against Grand Rapids after being sidelined with an injury since Feb. 25.  Melchiori set career highs in goals (4) and points (14) in 49 regular season games.
WHAT'S NEXT
After today's action, the Moose and IceHogs ship out to Rockford for the next two, and possibly three matchups. Game 3 is Wednesday, May 9 at 7 p.m. For all updates on the team, visit moosehockey.com.