Wild snap Moose win streak
By: Chris White | Published: February 22nd 2016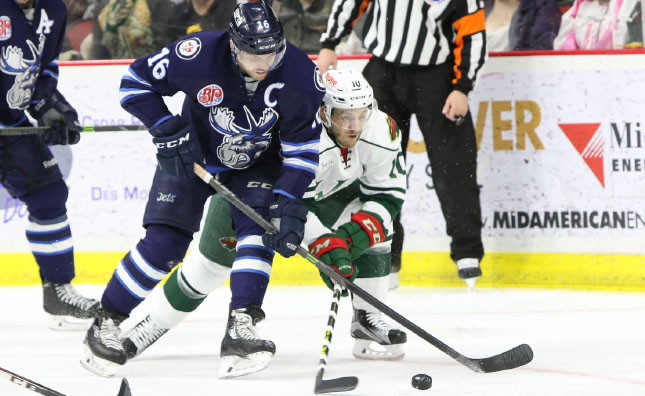 The luck for the Manitoba Moose ran out when they took on the Iowa Wild on Monday night at the Wells Fargo Arena.
Riding a four game win streak the Moose played with great confidence, controlling most of the game against the Wild but the bounces would not go their way.
Manitoba did rally from a two goal deficit on goals from Patrice Cormier in the second period and a game tying marker from Chase De Leo in the third period.
The Moose hit goal posts off the sticks of Julian Melchiori and Josh Morrissey that nearly resulted in goals. They also had an Andrew MacWilliam goal waved off in the third period after Thomas Raffl made incidental contact with the goaltender.
Zac Dalpe scored two goals for the Wild including the game winner with just 1:52 to play in the third period.
Brett Bulmer had the other goal for Iowa in a 3-2 victory for the Wild.
Connor Hellebuyck took the loss for the first time since returning from the Jets, making 30 saves. His counterpart Leland Irving made 33 saves.
The Moose will play the Wild in the rematch at the Wells Fargo Arena on Wednesday night at 7 p.m. CT.