Moose Carrying On With Autism Awareness Campaign
By: Daniel Fink | Published: April 6th 2021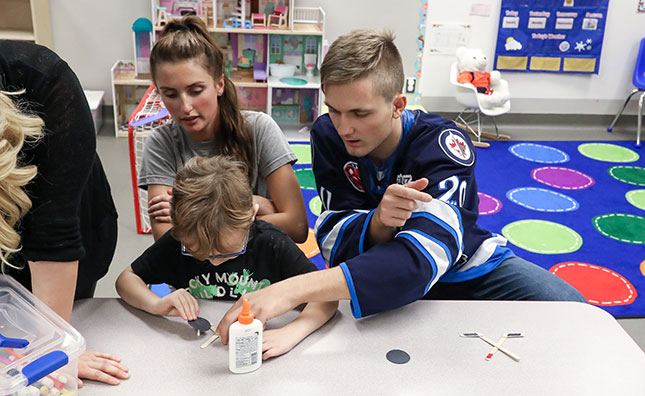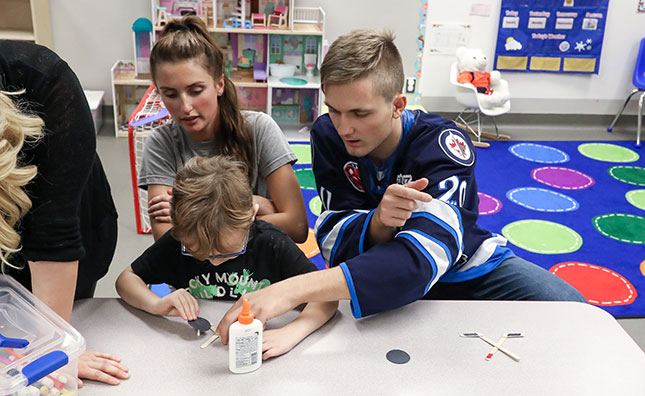 The Manitoba Moose Autism Awareness Campaign has become a staple of the team's community initiatives schedule since the club returned to Winnipeg. Moose fundraising efforts, powered by the generosity of fans, have raised over $66,000 for the St.Amant Autism Program. More specifically, the funds have been used to outfit five Early Learning Classrooms around Winnipeg.
The Early Learning Classrooms give preschool-aged children with autism a place to learn, to make friends and to prepare for kindergarten. The funds donated have purchased games, classroom software, iPads, learning tools, art supplies, toys and much more. All the items in a classroom that make it interesting are there because of the support from the Manitoba Moose Autism Awareness Campaign.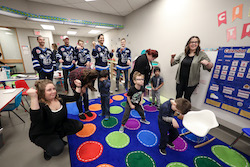 "Early intervention is key to children having good outcomes. So that means reaching children who are pre-school age and doing one-on-one teaching every day," said Juliette Mucha, Executive Director of the St.Amant Foundation. "When you hear from families about the challenges of their child is not responding to their name, is not speaking, does not do emotional gestures like hugging or even eye contact, but are meeting the physical growth milestones, parents are tired, frustrated and scared. The Autism Program tailors the programming to each person to ensure they have the best chance to succeed when they start kindergarten and continue to succeed throughout their school years."
In previous years, Moose players have had the opportunity to visit some of these early learning classrooms. It gives players the chance to spend some time with the students the fundraising supports, as well as see the tangible benefit of the campaign.
"It's awesome for us to see how the classrooms and schools are for the children," explained Moose alternate captain Kristian Reichel. "My first two years (with the Moose) I went to two classrooms in Winnipeg. I was amazed. I had never been to that type of class, and it's nice to see the kids enjoying the things purchased with the money from the charity. There are little things that we take for granted, but for the kids it's awesome. For them to have these things, it's special."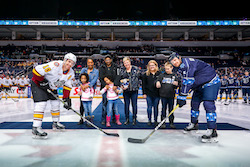 In a normal season, the Moose hold a month-long campaign headlined by their annual Autism Awareness game. Unfortunately due to theCOVID-19 pandemic and with fans not able to attend, many of those plans had to be put aside for the year. Despite these challenges, the Moose weren't about to give up. So the team put together an auction starting on April 2, World Autism Day, and running through the rest of the week to raise funds for the St.Amant Foundation.
Fans responded quickly. In the first 48 hours, all 21 items up for auction had at least one bid. Many had multiple entries. TNSE Community Relations Coordinator Raquel Payne was blown away by the early success.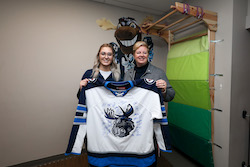 "We haven't been able to do the kinds of events or run the campaigns we typically do. So even after some time of relative quiet, our fans still show up and still support even without the ability to be at the games and to see the jerseys," said Payne. "COVID has hit everyone differently in some capacity, and to see fans still donating and still being just as supportive as past seasons, it makes me really proud knowing that these are the kinds of people who are behind our team. We live in a great city surrounded by even better people and this is just a reminder of that."
Moose forward Skyler McKenzie is glad the team has the opportunity to help in the community, even in a season where everything is different.
"I think it's really important. We're very limited to what we can do this year. With what we're doing on social media and everything like that, I think it's showing we're still aware of our community and shows we care."
There's still time to lend your support to the 2021 Moose Autism Awareness Campaign. You can access the auction through the Moose Mobile App or by clicking here. The auction runs through Sunday, April 11 with great items up for grabs like: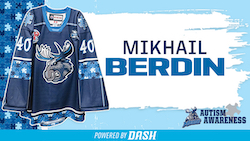 Five 2020 Game-Worn/Issued Autism Awareness Jerseys including goaltender Mikhail Berdin
Two replica Manitoba Moose Jerseys autographed by Winnipeg Jets first round picks Cole Perfetti or Ville Heinola
Customizable 2020 Autism Awareness Jersey Customizable 2019 Autism Awareness Jersey
Two autographed Autism Awareness themed dressing room name bars
10 Autism Awareness themed plush Moose
For everyone who has supported the campaign over the years, Juliette has a simple message.
"Thank you to all who supported the Manitoba Moose Autism Awareness Campaign over the past five years through the purchase of autism-themed jerseys, player puzzles and plush Moose toys. It all helps to make a difference to increase the quality of life for children with autism and their families."
(Accompanying photos from the 2019-20 season)