Boland Gaining Momentum From ECHL Playoff Run
By: Daniel Fink | Published: June 15th 2022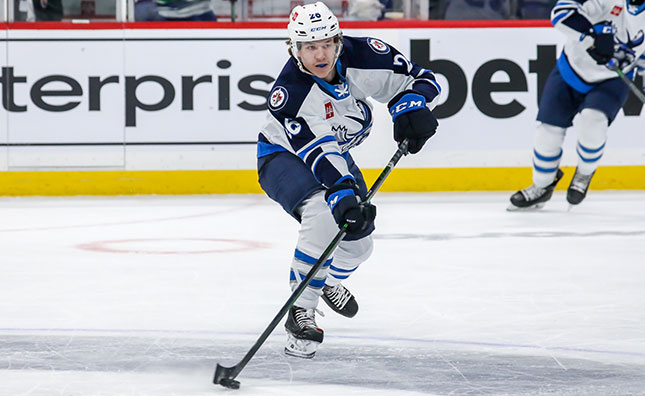 Tyler Boland's 2021-22 season was tumultuous to say the least. The 25-year old forward played for three different teams at three different levels of hockey during the campaign. He started out in USports with the University of New Brunswick as the Reds got back in action following a 2020-21 season lost to COVID-19. Boland racked up 16 points (6G, 10A) in 15 games with UNB before COVID-19 paused the season again. With uncertainty surrounding the remainder of the season, Boland leapt on the opportunity to join the professional ranks.
Welcome to the AHL
Boland signed a contract with the Moose running through 2022-23 on Jan. 17 and made his professional debut five days later in a 4-3 overtime win against the Chicago Wolves. The former Rimouski Oceanic (QMJHL) star went on to appear in 15 games with Manitoba and recorded his first professional point, an assist, on Feb. 8 in Texas.
Boland's stint with the Moose provided him the opportunity to get acclimated to the AHL game.
"I think it happens to almost every player when they go pro. That adjustment of the way things are done at the professional level," said Boland. "You get a little bit more freedom, but there's a lot more self-responsibility in what is expected of you. For me it more-so came down to preparing away from the rink to be at the rink."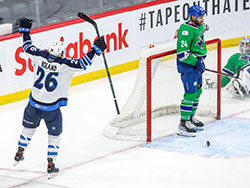 Boland leaned on his former junior teammate and Moose captain Jimmy Oligny to help make the transition from university hockey. The experience also helped lay the blueprint for what the skilled forward needs to do to become a regular in the Moose lineup.
"Obviously as you go up in these leagues, players are stronger and smarter," Boland pointed out. "The big thing for me is a good summer of training and getting my body really prepared for the grind that is pro hockey. Personally I need to trust in my ability and what I can do and then playing that way."
Hometown Hero
Boland played most of his professional games with the Newfoundland Growlers of the ECHL. His time with the Growlers marked a homecoming for Boland who hadn't played in his hometown since the 2012-13 campaign in his second season of U18 hockey.
"I went down and, to be honest, I was really nervous when I first got there," Boland recalled. "I know a lot of people there and it's a little nerve-wracking when they haven't seen me play in 10 years almost. Then getting to see me play again you want to perform well for them. The other guys there, my teammates and coaches really helped me."
Those nerves didn't show through as Boland scored his first professional goal and added two assists in front of family and friends in his Growlers debut. He went on to torch ECHL opposition for 21 points (11G, 10A) in 19 regular season outings. Then came the Kelly Cup Playoffs where the Newfoundlander took his game to a new level.
Boland scored a ridiculous 16 goals in 19 playoff games and added nine assists for 25 points. He still leads the league's forwards in playoff goals despite the Growlers not reaching the Kelly Cup Finals. His playoff brilliance included a critical tying goal in Game 5 of the Conference Finals, completing a hat-trick in the process. Unfortunately his four-point effort that night wasn't enough to extend the series as Newfoundland eventually fell 6-5 in overtime to the Florida Everblades.
🚨 GOAL 🚨

BOLAND TIES IT!!!!#STANDPROUD pic.twitter.com/4NWt3lKrVB

— Newfoundland Growlers (@NLGrowlers) May 29, 2022
The experience of post-season hockey at the professional level served to drive home how important it is to take care of oneself away from the rink.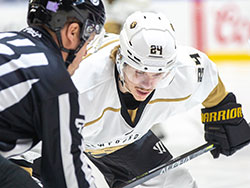 "Pro playoffs can be strenuous. Obviously the games are a little bit more physical and the competition is high. Also the travel we went through and making sure you're keeping yourself healthy to play in a playoff run," Boland explained, and added mental focus needs to rise as well. "Especially in playoffs you have to block out the distractions, everything else away from the game, and just put your mind to it for the two months or however long you're in."
It's an important off-season for Tyler Boland. The forward has crucial professional experience under his belt, and an electric playoff run behind him. He'll try to build on that momentum leading into training camp in the fall and earn a spot on the 2022-23 Moose roster.
Ticket memberships for the 2022-23 Manitoba Moose season are available now. Visit MooseHockey.com/PACKAGES for more information.