Jets Future Stars: Cole Perfetti
By: Austin Siragusa | Published: March 20th 2021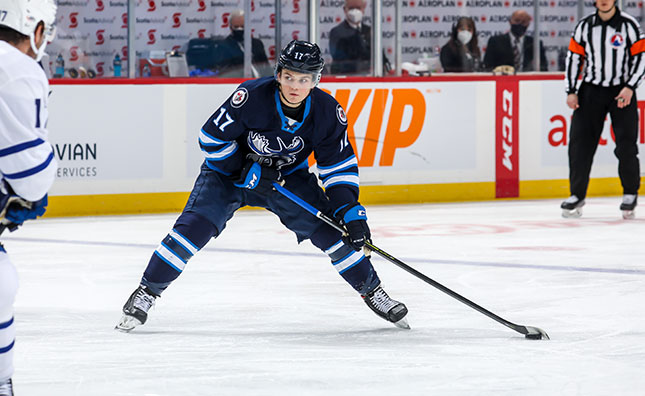 Like any year, the Manitoba Moose continue to develop the high-end prospects of the Winnipeg Jets. But in 2020-21, the Moose roster features the top selection from each of the Jets last four draft classes. With a break in games, it's an ideal time to take a look at each of those players
Our look at the Jets future starts with 2020 1st-round selection Cole Perfetti. He has appeared in 16 games with the Moose this season and logged eight points (3G, 5A) while doing so. The 19-year old knows how important playing in the AHL is for his development.
"I think that it's important for me and my confidence to know that there's a lot of people that have come through this league, it's a big learning step and how beneficial it is is for me at my age."
In a normal year, a drafted player who is sent down by their NHL club would go back to their junior league. With the OHL not currently playing, Perfetti is making the most of his time in the AHL.
"For me and my peers and other kids my age that are getting this opportunity, it's so good for our development. We're playing against men who are strong and have played professional hockey for years. The pace and skill is at such a higher level that it forces you to become such a better hockey player."
Moose General Manager Craig Heisinger knows this is a unique opportunity for Perfetti.
"I think for Cole, it pushes his development up a year. Playing junior would have been great this year, but it's not there, it's a unique opportunity. So being able to play in the American league is a unique opportunity as well. It gives him a place to play while the OHL is getting sorted out."
Check in on more top prospects in the Jets Future Stars series:
Ville Heinola
David Gustafsson
Kristian Vesalainen